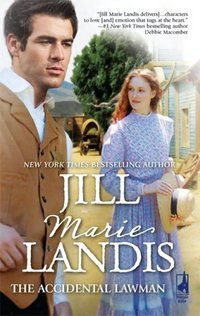 Purchase
Steeple Hill Love Inspired Historicial
June 2009
On Sale: June 1, 2009
368 pages
ISBN: 0373786522
EAN: 9780373786527
Mass Market Paperback
$6.99
Add to Wish List

Not five minutes in a one-horse Texas town, and Hank Larson foils a bank robbery. No matter that one of the bandits tripped right over Hank's dusty boots. Suddenly the newcomer is hailed a hero and anointed sheriff. Hank came to Glory to report crime in the newspaper--not stop it himself. But everyone thinks the Lord led him there to save the day. Everyone except the town's beautiful healer, Amelia Hawthorne. The robber who got away was her nineteen- year-old brother. And it's Hank's job to bring the guy in.
Hank knows all about losing family. And he slowly sets about restoring Amelia's shaky faith. But doing what's right might mean breaking her heart...and his own.
Comments
23 comments posted.
Hi Jill. The Accidental Lawman sounds good. The cover is nice even though the hero is big. :)
(Crystal Broyles 10:03am May 22, 2009)
Would love a chance to win, thanks for the opportunity. Have a great weekend!!!!
(Debra Czarnogursky 11:37am May 22, 2009)
Wow! I've been a fan of yours your entire career. As you say, emotion has always played a big part, but humor has also. Looking forward to reading these new books.
(Betty Cox 11:39am May 22, 2009)
This book sounds like great fun!
(LuAnn Morgan 12:48pm May 22, 2009)
His head looks normal sized to me (sorry....had to). Sounds like a fun read for this summer. Would love to win. Thanks.
(Pamela Shockley 12:49pm May 22, 2009)
I can't wait to read it. Any story about finding love again, forgiveness, and promises is right up my alley. Thanks for all of your good books! Would love to win this one.
(Carrie Divine 12:58pm May 22, 2009)
I can't wait to read either book. His head does look superimposed.
(Judy Anderson 1:31pm May 22, 2009)
Hmmm I have a big head too, I commiserate.
(Vikki Parman 1:39pm May 22, 2009)
I love a book that makes me laugh. I look forward to reading The Accidental Lawman.
(Robin McKay 1:59pm May 22, 2009)
Love the cover for the book. Sounds like an interesting read. Have a great day.
(Roberta Harwell 2:43pm May 22, 2009)
Hank sounds like a great hero and he certainly looks larger than life on your cover.
(Maureen Emmons 5:17pm May 22, 2009)
Hi Jill, The Accidental Lawman sounds like a great read. I love a story with some humor in it. I think I need a good laugh right now.
(Gail Hurt 5:43pm May 22, 2009)
Hi Jill, 'The Accidental Lawman' sounds like the perfect book for me. I want to read a story that makes me laugh and believe in hope, love and the future happiness.
(Rosemary Krejsa 6:35pm May 22, 2009)
Hi Jill
your book looks interesting and westerns are becoming much more popular at this time; good luck with your books and to all contestants.
(Diane Sadler 7:24pm May 22, 2009)
I enjoy stories that start with the characters literly fall over each other! :>)
(Karin Tillotson 8:52pm May 22, 2009)
Hi Jill,

The book looks very interesting as is the cover. Westerns are just fantastic
Elizabeth rainbird
(Elizabeth Rainbird 1:27am May 23, 2009)
Your book cover correlates with the insides. A touch of humor, too - I can't wait to find what he'll trip over next.
(Alyson Widen 5:42pm May 23, 2009)
This sounds like a good one! I am reading more westerns, as I am almost burnt out on the paranormal craze!
(Mari M. 5:57pm May 23, 2009)
Can't wait to read The Accidental Lawman it looks great
(Barbara Baugh 7:09pm May 23, 2009)
The Accidental Lawman looks like it would be good.
(Patsy Hagen 1:45pm May 24, 2009)
I'm glad you're writing more inspirational books, historicals have always been a favorite of mine, novel or romance.
(Sigrun Schulz 7:03pm May 24, 2009)
First a question - do your books come
in large print? We have a large group
of readers at our library who love this
type of story. Many however need
large print. Too often I end up with
the first book in a series in paperback
or regular print then find the later
books in large print. Then I'm in
trouble because they all want to read
the other books in the series.
Sounds like an enjoyable read with a
bit of a sense of humor - both high on
my list of books to get.
(Patricia Barraclough 6:19pm May 25, 2009)
Hi Patricia,
Homecoming is in large print and I believe that The Accidental Lawman should be as well. Thanks for your question,
Jill Marie
(Jill Landis 3:55am May 27, 2009)
Registered users may leave comments.
Log in or register now!