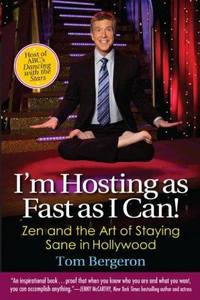 Purchase
I'm Hosting as Fast as I Can
Tom Bergeron
Zen and the Art of Staying Sane in Hollywood
HarperOne
April 2009
On Sale: April 7, 2009
240 pages
ISBN: 0061765872
EAN: 9780061765872
Hardcover
$25.95
Add to Wish List

He's one of the most ubiquitous men on television. Certainly the most calm, cool, and collected—the king of "off the cuff." And no one throws to a commercial better. Yes, Tom Bergeron is a Hollywood staple, and the role for which he is best known is . . . well . . . himself. But while he's a comforting presence to millions of people, cultivating this seemingly unshakeable positive outlook and cool persona took as much motivation, inspiration, perseverance, and experience as it would take one to prepare a classic part for the stage. I'm Hosting as Fast as I Can! is the trying, often laugh-out-loud journey it took to get to himself.
Tom got into the world of entertainment by way of local radio at age seventeen, hosting what his first boss told him was and should be a "no-personality station." He said, "Tommy, just play the records and read the commercials." But the sit-down-and-shut-up attitude belied Tom's natural inclination to inject personality and a little pluck into his broadcasts. So, Tom sought other performance opportunities on radio, in improvisational theater, and even as a mime (yes, a mime), which would help him hone the expressiveness that seems to come so naturally to his presentation. His determination would result in a high-profile hosting gig on the iconic game show Hollywood Squares and guest-hosting appearances on ABC's Good Morning America and CBS's Early Show. But as is sometimes the case with enthusiastic dynamos like Tom, he had an explosive temper that he admits had the potential to derail his dreams of being not only a successful broadcaster but also a successful husband, father, and friend. How to cope? "I meditated my temper into submission," says Tom with his trademark sense of humor. In I'm Hosting as Fast as I Can!, Tom elaborates on the process by which he is able to sit calmly and patiently, without being distracted, at any time, no matter how hectic, as well as respond quickly (and hilariously) when Marie Osmond faints at his feet on live TV. Haven't seen it? Check it out on YouTube. The man is always in control.

Media Buzz
The Bonnie Hunt Show - April 12, 2010
Jimmy Kimmel Live - April 9, 2010
Entertainment Tonight - May 6, 2009
The View - April 16, 2009
Good Morning America - April 9, 2009
Entertainment Tonight - April 4, 2009
Entertainment Tonight - April 1, 2009

Comments
No comments posted.

Registered users may leave comments.
Log in or register now!