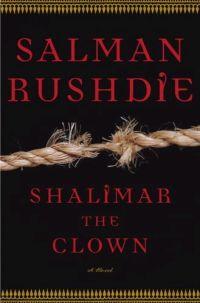 Purchase
In the 21st century, Shalimar's painful, terrifying themes are both fantastical and devastatingly real. To evidence otherwise, Rushdie offers a note of cautious optimism: people can work out their differences if left alone by ideologues or fanatics.
Random House
September 2005
Featuring: Max Ophuls
416 pages
ISBN: 0679463356
Hardcover
$25.95
Add to Wish List

From one of the leading literary figures of our time, a gripping international tale of love and revenge, and the ancient and modern conflicts from which they spring.
Los Angeles, 1991. Ambassador Maximilian Ophuls, one of the makers of the modern world, is murdered in broad daylight on his illegitimate daughter India's doorstep, slaughtered by a knife wielded by his Kashmiri Muslim driver, a mysterious figure who calls himself Shalimar the clown. The dead man is a charismatic World War Two Resistance hero, a man of formidable intellectual ability, a former US ambassador to India and subsequently America's counter- terrorism chief. The murder looks at first like a political assassination, but turns out to be passionately personal.
This is the story of Max Ophuls, his killer and his daughter — and of a fourth character, the woman who links them, whose story finally explains them all. It is an epic narrative that moves from California to Kashmir, from Nazi- occupied Europe to the world of modern terrorism. Along the way there is kindness, and magic capable of producing miracles; there is also war — ugly, unavoidable and seemingly interminable. And there is always love, gained and lost, uncommonly beautiful and mortally dangerous.
Everything is unsettled. Everything is connected. Lives are uprooted, names keep changing — nothing is permanent. The story of anywhere is also the story of everywhere else. Spanning the globe and darting through history, Rushdie's narrative captures the heart of the reader and the spirit of a troubled age.

Media Buzz
Colbert Report - November 28, 2007
Colbert Report - May 9, 2007
Good Morning America - December 14, 2006
Charlie Rose - December 6, 2006
Bill Moyers on Faith and Reason - June 25, 2006
Lou Dobbs Tonight - November 24, 2005
Lou Dobbs Tonight - October 27, 2005
Morning Edition - October 24, 2005
The O'Reilly Factor - September 22, 2005
Diane Rehm Show - NPR - September 13, 2005
All Things Considered - August 31, 2005

Comments
No comments posted.

Registered users may leave comments.
Log in or register now!