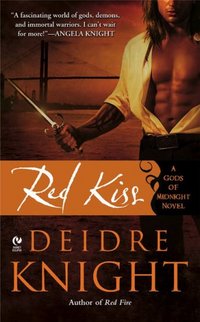 Purchase
The Spartans wage fierce wars-but nothing matches the battle within their hearts...
Gods of Midnight #2
Signet Eclipse
June 2009
On Sale: June 2, 2009
Featuring: River Kassandros; Emma Lowery
384 pages
ISBN: 0451226615
EAN: 9780451226617
Paperback
$7.99
Add to Wish List

Romance Paranormal | Romance Erotica Sensual
Immortal warrior and Spartan slave River Kassandros has a special gift — the ability to transform into any weapon. But in a recent battle, he was trapped as a dagger, unable to become human again. His one hope of salvation is a mere mortal...
When Emma Lowery beaches her kayak on an uninhabited island off the coast of Savannah, an ancient dagger seems to call out to her. Compelled by dark forces, Emma draws blood with his blade, freeing River. Now he's stronger, angrier — and exudes more sensuality than Emma can resist.
But a sinister power wants to claim River's destiny, and his precarious freedom. The pair must join the Spartan warriors to fight Ares himself. But can they face sacrificing their love to protect humankind from the war god's demonic plan?
Gods of Midnight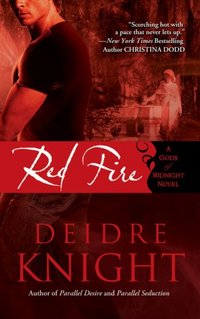 Red Fire
#1.0
Amazon.com | BN.com | | |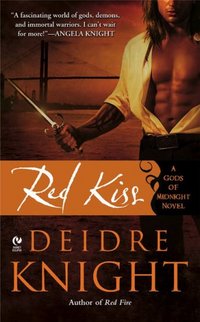 Red Kiss
#2.0
Amazon.com | BN.com | | |
Comments
36 comments posted.
Re: Red Kiss

Deidre, I went and read the excerpt of BUTTERFLY TATTOO and I am hooked! WOW! I want to read it ASAP! By the way, I do have a butterfly tattoo, has a very special meaning to me.
(Kay Martinez 12:00pm May 7, 2009)
When is/was it released? Can't wait to read it!! ;)
(Kelli Jo Calvert 1:28pm May 7, 2009)
I'm really looking forward to reading Red Kiss
(Anne Jones 1:36pm May 7, 2009)
Thank you for the insight into the business and creative side of things.
(Shannon Scott 2:16pm May 7, 2009)
I havent had a chance to read Red Kiss but the excerpts for both Butterfly Tattoo and Red Kiss blew me away.
(Tabatha Basham 2:30pm May 7, 2009)
I enjoyed the excerpt from Butterfly Tattoo, just the summary of the book sounds heart wrenching, but I'm sure there's a happy ending! Looking forward to the release of Red Kiss, I've been waiting for this book (I'm so glad it's about River…such a cliffhanger at the end of the first book!)
(Susan Galley 2:54pm May 7, 2009)
You're definitely in good company with that anthology! Congrats.
(LuAnn Morgan 3:29pm May 7, 2009)
Ohhhhh, that story just gives me happy chills! Just goes to show that dreams don't always come to us in the way we'd hoped, but if we keep at it, they do eventually come home to roost in their own unique way that's often more satisfying than the original version. :)
(Liane Gentry Skye 3:43pm May 7, 2009)
I love the excerpt to Tatooed Butterfly.
sounds great.
(Phyllis Lamken 3:58pm May 7, 2009)
WOW! publishing is complicated! I would love to read 'Butterfly Tattoo',sounds very interesting
(Dawn Raymer 4:52pm May 7, 2009)
I had a feeling you ladies had a lot to go through to get published I just didn't realize just how much bull you had to go through!
(Gail Hurt 6:36pm May 7, 2009)
I cannot wait to read Red Kiss! I love the intertwining in your world...it is so funny how things work like that!
(Sharla Long 6:54pm May 7, 2009)
Hi Deidre! I said hi at the RT Bookfair and I'm hoping to see my picture with you soon! LOL. Sounds like I need to get Butterfly Tattoo. And you know I am waiting for Red Kiss!! Glad you pushed through to get the books published!!
(Martha Eskuchen 7:14pm May 7, 2009)
Looking forward to reading Butterfly Tattoo. Love your books!
(Teresa Ward 8:08pm May 7, 2009)
What a wonderful excerpt -- great last
line -- I will read it! HOT cover, too!
(Lisa K. 8:46pm May 7, 2009)
I've been to several blogs giving Butterfly Tattoo praises. Would love to win a copy. Have a great day.
(Roberta Harwell 10:40pm May 7, 2009)
Wonderful excerpt. Am sure the rest of
the book will be the same. Have a
feeling it will go in a direction I don't
expect.
(Patricia Barraclough 11:11pm May 7, 2009)
Can't wait for Red Kiss & the anthology sounds like it's going to be a great one as well. What a Small World & thanks for telling us your story.
(Joann Lord 7:05am May 8, 2009)
It's been a long, strange, wonderful journey--and it's not over yet! I can't wait for RED KISS to be unleashed on the world...
(Louisa Edwards 9:53am May 8, 2009)
Wow!! These posts have really made my whole day! I'm so thrilled that all of you are gunning for River's story. I adore that man. :) And as Susan Galley said, poor guy was left with such a cliffhanger at the end of RED FIRE!! And, btw, RED KISS comes out on June 2! Email me when you read it and let me know what you think: Deidre@DeidreKnight.com.

Thanks for the amazing feedback here! Deidre
(Deidre Knight 12:16pm May 8, 2009)
To all the Mothers out there have a wonderful Mother's Day. We celebrate this occasion on this side of the world on 10th May!

Warm Regards - Rita from South Africa
(Rita De Canha 2:17pm May 8, 2009)
After reading the excerpt - I'm hooked. Want to read the whole thing.
(Josie Roetemeyer 4:55pm May 8, 2009)
Wow, I can't wait to read it! I'll be keeping an eye out for it. Have a beautiful day.
(Teresa Balderas 5:17pm May 8, 2009)
Looks like my TBB list is growing again, your books have been added. Maybe I need to get a lottery ticket to pay for everything I want.
(Nancy Gilliland 7:57pm May 8, 2009)
The muscles and tatoo on the cover make it irresistable.
(MaryEllen Hanneman 10:08pm May 8, 2009)
Ilove the title Butterfly Tatoo! and the excert, oh my!

Now I can't wait to read it!!
(Chris Jones 4:38am May 13, 2009)
I can't wait to read your books...the covers are great!
(Patsy Hagen 2:40pm May 19, 2009)
I have just started reading this series and would love if my sister could enjoy them along with me... maybe have a race to see who can read faster! Happy Holidays!
(Colleen Conklin 12:59pm December 8, 2009)
Oh, I would gift these books to myself. I would really like to read both these books!! Thanks, Sue
(Susan Hussein 6:06pm December 8, 2009)
I would love to give these books to myself, but my best friend would love them. She deserves some good reads because her mother just broke her hip and had had hip replacement about a month and a half ago.
(Gigi Hicks 9:13pm December 8, 2009)
I would love to give these books to someone special one this cold snowy day...me, myself and I! I need a healthy boost of sunshine coming it's way in the way of books!
(Lisa Glidewell 9:34pm December 8, 2009)
I would have to give these books
to my good reading buddy! She is
the one who got me hooked on
romance novels! She would love
this.
(Erin Thompson 11:04pm December 8, 2009)
I share everything with my mom,
including my books.
(Sue Ahn 11:32pm December 8, 2009)
Hi- I would love to win these books for my cousin, who is also a bookaholic; she's getting ready to start chemotherapy and could read when that is being done! Great giveaways!
(Barb Kettler 7:56am December 9, 2009)
I have a friend I got hooked on romance novels, she would love this!
(Brenda Rupp 10:57pm December 11, 2009)
idont have any one but would like to have for my collection and be able to read
(Desiree Reilly 11:02pm December 16, 2009)
Registered users may leave comments.
Log in or register now!