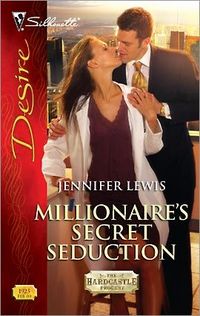 Purchase
Millionaire's Secret Seduction
Jennifer Lewis
The Hardcastle Progeny
Silhouette Desire
February 2009
On Sale: February 10, 2009
Featuring: Dominic Hardcastle; Bella Andrews
192 pages
ISBN: 0373769253
EAN: 9780373769254
Mass Market Paperback
$4.75
Add to Wish List

A multimillion-dollar family dynasty was hard to walk away from. And that's what Dominic Hardcastle intended to do. Until he met his father's employee Bella Andrews. She was intriguing and sexy beyond reason…and out to ruin his estranged, ruthless father. So Dominic offered to keep her secret if she'd keep him company…after hours.
Everything about Dominic set off alarms in Bella's head. For he had the power to destroy her plans. Maybe some intense overtime with Mr. Tall, Dark and Dangerous was needed. Suddenly her scheme didn't seem so simple…or her heart so safe.…
Comments
16 comments posted.
Re: Millionaire's Secret Seduction

Love to Hate them and can't live with them.
(Faye McMichael 11:53am February 12, 2009)
Hi Faye and Sara.

I love stories of redemption and I love seeing semi-villainous characters come back to reveal their heroic qualities. It usually makes for a really complex and interesting character.

Jen
(Jennifer Lewis 12:39pm February 12, 2009)
It sounds like you have some great character development in this book! I love complex characters, especially those that are able to redeem themselves.
(Cheryl Castings 1:11pm February 12, 2009)
Hi Cheryl! I had a lot of fun tormenting the characters in this book and making them look hard at what is really important to them.

Jen
(Jennifer Lewis 1:39pm February 12, 2009)
I've read most if not all of the Hardcastle books and Jen does a great job of keeping him on that knife sharp edge bt. heroic and evil. I must admit I was sad to see him go.

Carly
(Jon Johnson 1:53pm February 12, 2009)
Thanks Carly ::blows kisses::

Jen
(Jennifer Lewis 2:49pm February 12, 2009)
It was a soap opera that taught me that a handsome guy could lose his attractiveness when he behaved badly.
(Shannon Scott 5:07pm February 12, 2009)
Hi Shannon, that just proves the old adage that beauty is in the eye of the beholder. That's why villains are always heroes in their own imaginations :-)

Jen
(Jennifer Lewis 5:41pm February 12, 2009)
There used to be a character on a soap opera I used to watch and you always thought, this time, he's going to reform! But you have to have a really good bad guy to make any suspence reading any good!!
(Kelli Jo Calvert 5:50pm February 12, 2009)
Fagin from the movie Oliver. He never
was truly evil, just a flawed human. You
couldn't approve of him, but he brought a
smile to your face.
(Patricia Barraclough 9:21pm February 12, 2009)
I can't really think of anyone real or
fiction-wise whom I love to hate. I either
like 'em or I don't.

Julie
(Julie Robinson 1:59am February 13, 2009)
My love to hate character is (please don't think I'm too odd) Dexter Morgan. He's insanely brilliant. And at the height of goriness he says some truly funny things. So most times, I love him more than I dislike him.
(Jody Faltys 4:35pm February 13, 2009)
Hi Jennifer, well recently I watched the movie chronicles of Narnia: Prince Caspian and I really wanted King Miraz out of the "picture" so that no more Narnians would die! It was very painful to watch!
(Allison Hol 3:59am February 14, 2009)
I also loved all the old shows with the rich dastarly tycoons that you hoped a good woman would reform.
I was a fan of Dallas, Dynasty, Falcon Crest back in the day. I hardly find any shows like that anymore.
i guess one guy you want to see reform (he is not a millionaire but a docotr) would be Dr. Gregory House of House.
(Gigi Hicks 11:34am February 14, 2009)
the villian from prison break
(Kim h 5:50am February 15, 2009)
Wasn't Rhett Butler a villian? I love House who is brutal with the truth. I really want to read your book. You look so young, can you tell us your age? Curious that's all.
(Cynthia Stubbs 2:55am February 16, 2009)
Registered users may leave comments.
Log in or register now!