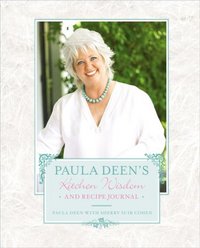 Purchase
Simon & Schuster
November 2008
On Sale: November 4, 2008
256 pages
ISBN: 1416597026
EAN: 9781416597025
Paperback
$18.95
Add to Wish List

Hey there, y'all!
My favorite recipes came direct from my momma and grandmommas. I just love goin' through all the recipe cards they passed on to me and readin' their handwritten notes; it makes me remember our good times in the kitchen, gathered round the table. Sometimes, though, I need a little remindin' when it comes to writin' down my own recipes and recollections, so I've put together this darlin' little journal to get me (and you) started recordin'. I know I never forget a meal, but I also know that Jamie and Bobby aren't always listenin' to what I'm tellin' 'em.
So for you and the boys, I've included some tried-and-true recipes and some of my hard-learned tricks for gettin' out of culinary scrapes -- and Lord, honey, have there been a few. Whether it is a real disaster -- the boss and his wife are comin' over and the kitchen is full of smoke (no shame in servin' some takeout) -- or just an everyday bump in the road -- your husband didn't hear the buzzer, and the cake got a little dry in the oven (let some sugar water soak into those layers, and no one will know the difference) -- I've got your answer. Just get cookin' and let loose: nothin' makes memories like the smell of home-cooked meals. Jot down your ingredients and your musings, cut out a recipe card or two to share with friends, keep track of who came to dinner, who liked what, and who laughed the loudest; remember the good times and learn from the bad. Like I always say, there's not much in life you can't learn in the kitchen.
Paula Deen

Media Buzz
Conan O'Brien - February 2, 2009
The Bonnie Hunt Show - December 11, 2008
Tonight Show with Jay Leno - December 8, 2008
Live with Regis and Kelly - November 28, 2008
Good Morning America - November 3, 2008

Comments
No comments posted.

Registered users may leave comments.
Log in or register now!