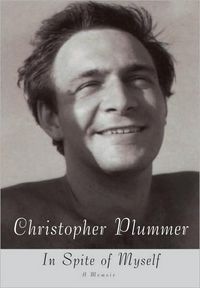 Purchase
A rollicking, rich portrait of a life. And what a life! By one of today's greatest living actors.
Knopf
November 2008
On Sale: November 4, 2008
Featuring: Christopher Plummer
656 pages
ISBN: 0679421629
EAN: 9780679421627
Hardcover
$29.95
Add to Wish List

He was born a Canadian on a Friday the thirteenth in 1929— the year of the Crash. His boyhood was one of privilege: an ancestor was a Governor General; his great-grandfather Sir John Abbott was Canada's third prime minister and owned railroads. There were steam yachts, mansions, and a life of Victorian gentility and somewhat cluttered splendor.
Plummer tells how "this young bilingual wastrel, incurably romantic, spoiled rotten, tore himself away from the ski slopes to break into the big bad world of theatre, not from the streets up but from an Edwardian living room down," and writes of his early acting days as an eighteen-year-old playing the lead in Shakespeare's Cymbeline, directed by the legendary Komisarjevsky of Moscow's Imperial Theatre.
We see his glorious New York of the fifties, where life began at midnight, with the likes of Arthur Miller, Carson McCullers, Tennessee Williams, and Paddy Chayefsky, and how Plummer's own Broadway world developed and swept him along through the last Golden Age the American Theatre would ever remember . . . how the sublime Ruth Chatterton ("she might have been created by F. Scott Fitzgerald and Sinclair Lewis") introduced him to the right people in New York . . . how Miss Eva Le Gallienne gave Plummer his Broadway debut at twenty-five in The Starcross Story ("It opened and closed in one night! One solitary night! But what a night!"). He writes about Miss Katherine Cornell (the last stage star to travel by private train), who, with her husband, Guthrie McClintic, added to what experience Plummer had the necessary gloss, spit, and polish to take him to the next level. Guthrie bundled Plummer off to Paris for a production of Medea, opposite Dame Judith Anderson ("a little Tasmanian devil . . . who with one look could turn an audience to stone").
Plummer writes about the great producers with whom he worked—Kermit Bloomgarden, Robert Whitehead, and Roger Stevens—about Lillian Hellman, Leonard Bernstein, Elia Kazan ("If you weren't careful, this chameleon of chameleons might change into you, wear your skin, steal your soul"), and the miracle that was the new Stratford Festival in Canada, where Plummer blossomed in the classics under the extraordinary Tyrone Guthrie. He writes about his (too brief) encounters with his favorite geniuses, Orson Welles and Jonathan Miller. He writes about his lifelong friendships with Raymond Massey and the wild Kate Reid, and with that fugitive from the Navy, "that reprobate and staunch drinking buddy, the true reincarnation of Eugene O'Neill, whose blood was mixed with firewater," Jason Robards, Jr.
Plummer writes about his affairs and his marriages, and about his daughter, Amanda, who "despite her slim looks and tiny bones could raise tempests, guaranteed to loosen the foundation of any theatre in which she chose to rage."
We see him becoming a leading actor for Peter Hall's Royal Shakespeare Theatre, with a company of young talented players, each destined for stardom—Judi Dench, Vanessa Redgrave, Peter O'Toole, et al., collectively the future of the English stage. The old guard was brilliantly represented by Dames Edith Evans and Peggy Ashcroft and Sir John Gielgud. Plummer, the only fugitive from the New World, played Richard III, Benedick, and Henry II in Becket.
He writes about his film career: The Sound of Music (affectionately dubbed "S&M") . . . Inside Daisy Clover, which brought him together with the beautiful Natalie Wood . . . John Huston's The Man Who Would Be King (Plummer was Rudyard Kipling). He tells the story of accepting Sir Laurence Olivier's invitation to join the National Theatre Company, playing in Amphytron directed by Olivier himself ("a great actor but lousy director"), and writes about falling deeply in love with and eventually marrying a young actress and dancer, Elaine Taylor—to this day, his "one true strength."
Seamlessly written, with stories that make us laugh out loud and that make real the fascinating, complex, exuberant adventure that is the actor's (at least this actor's) life.

Media Buzz
Oprah - June 15, 2011
CBS Sunday Morning - June 5, 2011
Oprah - December 27, 2010
Oprah - October 28, 2010
Diane Rehm Show - NPR - December 29, 2009
Diane Rehm Show - NPR - December 24, 2008
Good Morning America - December 22, 2008
Diane Rehm Show - NPR - November 18, 2008
Fresh Air - NPR - October 31, 2008

Comments
1 comment posted.
Re: In Spite of Myself: A Memoir

It's nice to see Christopher Plummer's book reviewed here. I've seen him on stage, besides numerous of his films, and he's marvelous in his roles. He was also featured in an interview on CBC's One on One, in which he was very forthcoming about his life. I'd really like to read his autobiography.
(Sigrun Schulz 11:19pm January 27, 2011)
Registered users may leave comments.
Log in or register now!