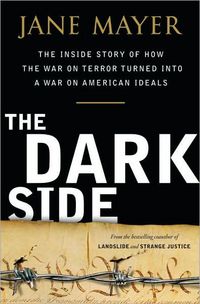 Purchase
The Inside Story of How The War on Terror Turned into a War on American Ideals
Doubleday
July 2008
On Sale: July 15, 2008
400 pages
ISBN: 0385526393
EAN: 9780385526395
Hardcover
$27.50
Add to Wish List

A dramatic and damning narrative account of how America has fought the "War on Terror"
In the days immediately following September 11th, the most powerful people in the country were panic-stricken. The radical decisions about how to combat terrorists and strengthen national security were made in a state of utter chaos and fear, but the key players, Vice President Dick Cheney and his powerful, secretive adviser David Addington, used the crisis to further a long held agenda to enhance Presidential powers to a degree never known in U.S. history, and obliterate Constitutional protections that define the very essence of the American experiment.
THE DARK SIDE is a dramatic, riveting, and definitive narrative account of how the United States made terrible decisions in the pursuit of terrorists around the world-- decisions that not only violated the Constitution to which White House officials took an oath to uphold, but also hampered the pursuit of Al Qaeda. In gripping detail, acclaimed New Yorker writer and bestselling author, Jane Mayer, relates the impact of these decisions—U.S.-held prisoners, some of them completely innocent, were subjected to treatment more reminiscent of the Spanish Inquisition than the twenty-first century.
THE DARK SIDE will chronicle real, specific cases, shown in real time against the larger tableau of what was happening in Washington, looking at the intelligence gained—or not— and the price paid. In some instances, torture worked. In many more, it led to false information, sometimes with devastating results. For instance, there is the stunning admission of one of the detainees, Sheikh Ibn al-Libi, that the confession he gave under duress—which provided a key piece of evidence buttressing congressional support of going to war against Iraq--was in fact fabricated, to make the torture stop.
In all cases, whatever the short term gains, there were incalculable losses in terms of moral standing, and our country's place in the world, and its sense of itself. THE DARK SIDE chronicles one of the most disturbing chapters in American history, one that will serve as the lasting legacy of the George W. Bush presidency.

Media Buzz
Diane Rehm Show - NPR - May 21, 2013
Diane Rehm Show - NPR - October 25, 2012
NewsHour with Jim Lehrer - August 24, 2009
Countdown with Keith Olbermann - July 13, 2009
NewsHour with Jim Lehrer - July 13, 2009
On The Media - May 16, 2009
Fresh Air - NPR - October 24, 2008
Colbert Report - August 18, 2008
Charlie Rose - August 13, 2008
Colbert Report - August 12, 2008
Tavis Smiley - August 7, 2008
Late Show with David Letterman - July 23, 2008
Day To Day - July 17, 2008
Fresh Air - NPR - July 15, 2008

Comments
No comments posted.

Registered users may leave comments.
Log in or register now!