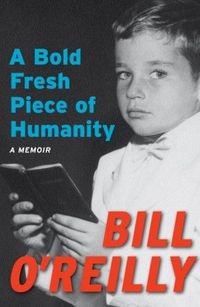 Purchase
A Bold Fresh Piece of Humanity
Bill O'Reilly
A Memoir
Broadway
October 2008
On Sale: September 23, 2008
224 pages
ISBN: 0767928822
EAN: 9780767928823
Hardcover
$26.00
Add to Wish List

In 1957, in the heart of the Eisenhower years, in the third grade classroom of Sister Mary Lurana in Saint Brigid's parochial school in Westbury, Long Island, was a mouthy, obstreperous kid by the name of William O'Reilly. Quite a handful he was, and so one day Sister Mary bent over him in exasperation in response to some piece of mischief and told him to his face, "William, you are a bold fresh piece of humanity." Little did she know that she was, early in his career as a troublemaker, defining the essence of Bill O'Reilly and providing him with the title of his brash and entertaining issues-based memoir.
In his most intimate book yet, O'Reilly goes back in time to examine the people, places, and experiences that launched him on his journey from being a working-class kid to an immensely influential television personality and bestselling author. Readers will learn how his traditional outlook was formed in the crucible of his family, his neighborhood, his church, and his schools, and how his views on America's proper role in the world emerged from covering four wars on five continents over three-plus decades as a news correspondent. What will delight his many fans and surprise many others is the humor and self-deprecation with which he handles one of his core subjects: himself, and just how O'Reilly became O'Reilly.

Media Buzz
Jay Leno Show - July 26, 2010
Good Morning America - May 5, 2010
The View - October 30, 2009
Late Show with David Letterman - March 31, 2009
Early Show - February 5, 2009
Morning Edition - December 10, 2008
Daily Show with Jon Stewart - November 13, 2008
Good Morning America - November 10, 2008
CBS Sunday Morning - November 2, 2008
Late Show with David Letterman - October 27, 2008
The View - October 22, 2008
Live with Regis and Kelly - October 8, 2008
The O'Reilly Factor - September 25, 2008
Good Morning America - September 23, 2008
The O'Reilly Factor - September 9, 2008
The O'Reilly Factor - May 7, 2008

Comments
No comments posted.

Registered users may leave comments.
Log in or register now!