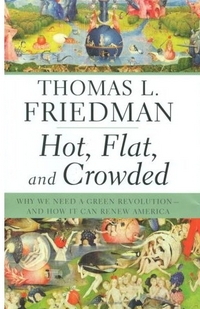 Purchase
Why We Need a Green Revolution--And How It Can Renew America
Farrar, Straus and Giroux
September 2008
On Sale: September 8, 2008
400 pages
ISBN: 0374166854
EAN: 9780374166854
Hardcover
$24.00
Add to Wish List

Thomas L. Friedman's phenomenal number-one bestseller The World Is Flat has helped millions of readers to see the world in a new way. In his brilliant, essential new book, Friedman takes a fresh and provocative look at two of the biggest challenges we face today: America's surprising loss of focus and national purpose since 9/11; and the global environmental crisis, which is affecting everything from food to fuel to forests. In this groundbreaking account of where we stand now, he shows us how the solutions to these two big problems are linked--how we can restore the world and revive America at the same time.
Friedman explains how global warming, rapidly growing populations, and the astonishing expansion of the world's middle class through globalization have produced a planet that is "hot, flat, and crowded." Already the earth is being affected in ways that threaten to make it dangerously unstable. In just a few years, it will be too late to fix things--unless the United States steps up now and takes the lead in a worldwide effort to replace our wasteful, inefficient energy practices with a strategy for clean energy, energy efficiency, and conservation that Friedman calls Code Green.
This is a great challenge, Friedman explains, but also a great opportunity, and one that America cannot afford to miss. Not only is American leadership the key to the healing of the earth; it is also our best strategy for the renewal of America.
In vivid, entertaining chapters, Friedman makes it clear that the green revolution we need is like no revolution the world has seen. It will be the biggest innovation project in American history; it will be hard, not easy; and it will change everything from what you put into your car to what you see on your electric bill. But the payoff for America will be more than just cleaner air. It will inspire Americans to something we haven't seen in a long time--nation-building in America--by summoning the intelligence, creativity, boldness, and concern for the common good that are our nation's greatest natural resources.
Hot, Flat, and Crowded is classic Thomas L. Friedman: fearless, incisive, forward-looking, and rich in surprising common sense about the challenge--and the promise--of the future.

Media Buzz
Charlie Rose - July 8, 2011
Good Morning America - June 15, 2009
Good Morning America - March 17, 2009
Charlie Rose - December 11, 2008
Colbert Report - November 26, 2008
Colbert Report - November 20, 2008
Larry King Live - November 18, 2008
Daily Show with Jon Stewart - November 11, 2008
Good Morning America - November 6, 2008
Tavis Smiley - October 30, 2008
Martha Stewart - October 23, 2008
Good Morning America - September 24, 2008
Charlie Rose - September 9, 2008
Fresh Air - NPR - September 8, 2008
Good Morning America - September 8, 2008
Late Show with David Letterman - September 8, 2008
Meet the Press - September 7, 2008

Comments
No comments posted.

Registered users may leave comments.
Log in or register now!