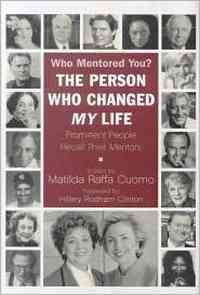 Purchase
The Person Who Changed My Life
Matilda Cuomo
Prominent People Recall Their Mentors
Barnes and Noble
June 2003
On Sale: June 1, 2003
256 pages
ISBN: 0760739536
EAN: 9780760739532
Hardcover
$2.50
Add to Wish List

At some point in thenodyssey of our lives, most of us have been affected by caring adultsnwho made a difference -- their advice, guidance, and example havenhelped us to encounter the world. The Person Who Changed My Lifenis a collection of essays in which individuals who have distinguishednthemselves in their fields write about the men and women who served asntheir mentors.n
Among the contributors in this new and expanded edition arenEdward Asner, Alec Baldwin, Joy Behar, Kenneth Cole, Mario M. Coumo,nCindy Crawford, Walter Cronkite, Hugh Downs, Marian Wright Edelman,nGloria Estefan, Whoopi Goldberg, Tipper Gore, Pete Hamill, James EarlnJones, Larry King, Maya Lin, Peter Max, John McCain, General ColinnPowell, Tony Randall, Christopher Reeve, Tim Russert, Diane Sawyer,nMartin Sheen, Joe Torre, Stanley Tucci, Lillian Vernon, and many more.n
The seventy-seven contributors evoke the people who had anlasting influence on their personal or professional lives. In so doing,nthey tell us something very meaningful about themselves. In this variedncollection of essays, the word mentorntakes on many different meanings -- we read about favorite teachers,nclose friends, older coworkers, and even fictional characters.n
In the Foreword, Hillary Rodham Clinton writes about her ownnexperiences with mentoring and emphasizes the importance of gettingninvolved in programs to help children in the early grades by givingnthem positive adult role models. And in the Introduction, Matilda RaffanCuomo describes how mentoring works and how you can become a mentor andnstart a mentoring organization in your community.n
These informative and heartfelt essays by people who havenexcelled in their professions by hard work, perseverance, and, mostnimportantly, the helpful assistance of others, will inspire readers tonbecome mentors and influence the lives of children in theirncommunities. In his essay, Pete Hamill writes about how several mentorsnplayed a role in his life and discusses the importance of developing anninternal mentor who is "a composite of a number of people, those wenknow and those we have never met."n
nThe Person Who Changed My Life paints a moving portrait of humannservice, community involvement, and simple compassion. And its storiesnof success are testimony to the long-lasting impact a mentor cannhave.

Media Buzz
The View - March 19, 2012
The View - January 27, 2012
Good Morning America - January 24, 2008

Comments
No comments posted.

Registered users may leave comments.
Log in or register now!