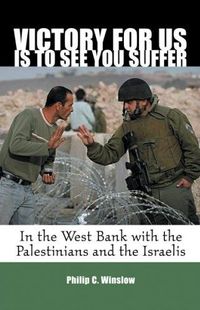 Purchase
Victory for Us Is to See You Suffer
Philip C. Winslow
In the West Bank with the Palestinians and the Israelis
Beacon Press
October 2007
On Sale: October 4, 2007
240 pages
ISBN: 080706906X
EAN: 9780807069066
Hardcover
$24.95
Add to Wish List

A rare, firsthand account of life in the West Bank by a UN relief worker and journalist
During the second intifada, Philip C. Winslow worked in the West Bank with the United Nations Relief and Works Agency (UNRWA), driving up to 600 miles a week between almost every Palestinian town, village, and refugee camp and every Israeli checkpoint in the occupied territory. He returned just before the onset of the 2006 Israel-Lebanon conflict.
In Victory for Us Is to See You Suffer, Winslow captures the human aspects of the conflict during the years of suicide bombings and Israeli reprisals in the West Bank—the daily struggles, fear, and anger of Palestinian farmers and teachers, and the hostility of Israeli soldiers and settlers. On this small territory, punctuated with hundreds of heavily guarded crossings and physical barriers, nervous young Israeli soldiers who believe they are fighting terrorists enforce stringent controls over the movement of Palestinians trying to live on their own land. Working with UNRWA, Winslow negotiated the delivery of humanitarian aid through army checkpoints, often finding himself the target of anger from both Palestinians and Israelis. He returned as a journalist, in the wake of the Hamas victory in Palestinian parliamentary elections, to interview people on both sides of the checkpoints and look at the decades-long destructive cycle through their eyes. From these unique multiple perspectives, Winslow offers an uncensored view of the realities on the ground that have made a just political solution and enduring peace so difficult.
"Wise, modest, fair, and alert to the nuances of human interaction, Winslow is a gentle guide to an ungentle landscape. But the picture he etches of the effects of Israeli control over the West Bank is devastating. Americans who care about forging a lasting peace in the Middle East should read this book, because this is the disastrous occupation that our tax dollars are paying for." —Adam Hochschild, author of Bury the Chains: Prophets and Rebels in the Fight to Free an Empire's Slaves

Media Buzz
Fresh Air - NPR - November 19, 2007

Comments
No comments posted.

Registered users may leave comments.
Log in or register now!