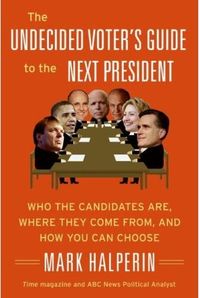 Purchase
The Undecided Voter's Guide to the Next President
Mark Halperin
Who the Candidates Are, Where They Come from, and How You Can Choose
HarperCollins
October 2007
On Sale: October 16, 2007
416 pages
ISBN: 0061537306
EAN: 9780061537301
Trade Size
$14.95
Add to Wish List

Who's ready for the oval office?
They call it a horse race, and in this election the candidates got out of the gate early. But it's still hard to tell them apart and make a choice. Mark Halperin, veteran reporter and political analyst, sizes up the White House hopefuls with intelligence, insight, and his trademark wit, offering engaging, in-depth examinations of the histories, qualifications, agendas, and personal beliefs of the major candidates—including Hillary Clinton, John Edwards, Rudy Giuliani, John McCain, Barack Obama, Mitt Romney, and Fred Thompson, as well as some "dark horse" contenders.
Among the features in this book:
Issue-by-issue charts defining where each candidate stands on the war in Iraq, health care, taxes, the economy, and other significant points of debate.
An assessment of each candidate's strengths and weaknesses.
A hypothetical glimpse into the future of each candidate's potential presidency.

Areas of possible controversy that could spark heated discussion and affect the outcome of the race.
Personal facts and anecdotes about each candidate—including exclusive Q&As covering everything from their junk food weaknesses to their biggest superstitions.

Media Buzz

Charlie Rose - September 15, 2010
The View - March 3, 2008
Anderson Cooper 360 - January 25, 2008
Anderson Cooper 360 - December 28, 2007
NewsHour with Jim Lehrer - December 24, 2007
Inside Edition - November 30, 2007
Today - October 30, 2007


Comments

No comments posted.


Registered users may leave comments.
Log in or register now!