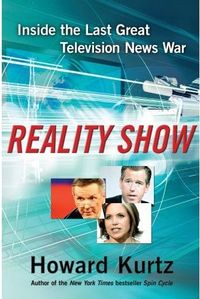 Purchase
Inside the last great television news war
Free Press
October 2007
On Sale: October 9, 2007
480 pages
ISBN: 0743299825
EAN: 9780743299824
Hardcover
$26.00
Add to Wish List

Dan Rather, Tom Brokaw, Peter Jennings: They were on a first-name basis with the country for a generation, leading viewers through moments of triumph and tragedy. But now that a new generation has succeeded them, the once-glittering job of network anchor seems unmistakably tarnished. In an age of instantaneous Internet news, cable echo chambers and iPod downloads, who really needs the evening news? And, by extension, who needs Katie Couric, Brian Williams, and Charlie Gibson?
But the anchors still have a megaphone capable of cutting through the media static. Their coverage of Iraq helped turn the country against that bloody war, and they are now playing a leading role in chronicling the collapse of George Bush's presidency and the 2008 race to succeed him. Yet, even as the anchors fight for ratings supremacy, the mega-corporations they work for have handed them a bigger challenge: saving an American institution.
In this freewheeling, intimate account of life atop the media pyramid, award-winning bestselling author Howard Kurtz takes us inside the newsrooms and executive suites of CBS, NBC, and ABC, capturing the deadline judgments, image-making, jealousies, and gossip of this high-pressure business. Whether it is Couric trying to regain her morning magic while coping with tabloid stories about her boyfriends, Williams reporting from New Orleans and Baghdad while worrying about his ailing father, or Gibson weighing whether to follow his wife into retirement while grappling with having to report the explicit details of sex scandals, Kurtz brings to life the daily battles that define their lives.
The narrative reflects an extraordinary degree of access to such corporate chieftains as Jeff Zucker and Les Moonves, star correspondents, and the anchors themselves. Their goal: create an on-screen persona that people will tune in to and trust. Yet they are faced with a graying, shrinking audience as younger viewers flock to Jon Stewart, whose influence on the real newscasts is palpable. Here is the untold story of what these journalistic celebrities think of their bosses, cable competitors, bloggers, and each other.

Media Buzz
Colbert Report - March 26, 2008
Colbert Report - March 12, 2008
Diane Rehm Show - NPR - October 15, 2007
Daily Show with Jon Stewart - October 11, 2007
Countdown with Keith Olbermann - October 11, 2007
Good Morning America - October 10, 2007
The O'Reilly Factor - October 10, 2007
Colbert Report - October 8, 2007

Comments
No comments posted.

Registered users may leave comments.
Log in or register now!