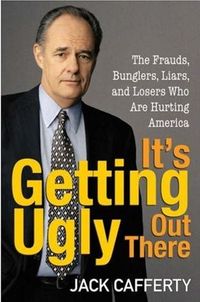 Purchase
It's Getting Ugly Out There
Jack Cafferty
The Frauds, Bunglers, Liars, and Losers Who Are Hurting America
Wiley
September 2007
On Sale: September 10, 2007
288 pages
ISBN: 0470144793
EAN: 9780470144794
Hardcover
$24.95
Add to Wish List

In his daily "Cafferty File" segments on CNN's The Situation Room, Jack Cafferty focuses on the high, the mighty, and the often mindless public figures in politics and corporate America who think they can hoodwink the great American middle class indefinitely and get away with it. Millions of people watch him, feeling that he expresses their own concerns. Now, in his first book, Cafferty kicks his outrage into high gear with a brilliant condemnation of some of the most egregious and infuriating boondoggles, screw-ups, and swindles ever perpetrated on the American public. With both logic and heart, he assesses the ongoing damage done to our American democracy by the war in Iraq, the Patriot Act, illegal immigration, cowboy diplomacy, and the media that have often been all too willing to overlook or even encourage these nightmares.
While his sights are set primarily on President George W. Bush and his team—Cheney, Rumsfeld, Rove, Rice, Brownie, and many more—Cafferty is an equal-opportunity curmudgeon. With the same intensity, he goes after the Democratic Party, Nancy Pelosi, the ACLU, and some causes beloved by liberals while sizing up the leading candidates for the 2008 presidential race.
Cafferty argues that those in power are so isolated from the rest of the population and so indebted to the corporations, lobbyists, and tycoons who finance their campaigns and hire them when they leave office that they simply don't have a clue what life is like for most Americans and don't care enough to find out. Cafferty does care—and he shows it. It's Getting Ugly Out There shares many of the thoughtful, hilarious, perceptive, and moving e-mail messages from viewers of the "Cafferty File." These include some of the unprecedented thousands of e-mails received by CNN in the two days following Cafferty's resounding denunciation of the government's response to Hurricane Katrina—the ultimate example of indifference to the plight of citizens in desperate straits.
Passionate, controversial, and in your face, It's Getting Ugly Out There is a rarity among current-affairs books—a searing, hard-hitting critique of the powers that be, not from the left or the right, but straight from the heart of a proud mainstream American.

Media Buzz
Daily Show with Jon Stewart - March 30, 2009
Lou Dobbs Tonight - October 24, 2007
Lou Dobbs Tonight - October 23, 2007
Lou Dobbs Tonight - October 10, 2007
The View - October 4, 2007
Daily Show with Jon Stewart - October 1, 2007

Comments
No comments posted.

Registered users may leave comments.
Log in or register now!