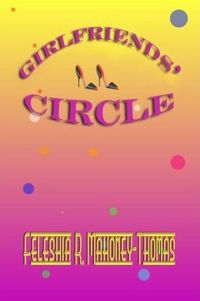 Purchase
Thomas Creations Publishing
May 2006
On Sale: May 4, 2006
Featuring: Rachel; Gerald; Candace
266 pages
ISBN: 193358212X
EAN: 9781933582122
Paperback
$16.99
Add to Wish List

Girlfriends if you don't ever remember who you are reflect back on these words and regroup We are GIRLFRIENDS sisters of all creed and color, belonging to one CIRCLE and we are defined in these words: Glorious, irreplaceable, remarkable, luxurious, fabulous, ravishing, intelligent, encouraging, nurturing, dynamic, superb, craetors, immaculate, relevant, loving and enticing..... We are Girlfriends,we belong to the circle- we love each other for we love ourselves. In the circle you will find girlfriends who have a heartfelt story to tell, a story you may relate to. You will hear others speak out on topics that you are suffering with and have no one to talk to or family and friends you are afraid to discuss your issues with. Let me introduce you to a few of our girlfirends from our circle and their issues. Melissa- He failed to tell me he is married April- I dont feel like a good parent Nanette- unhappy with who I am Charmaine- How many drinks is too much Sophie-Wanna Bees Kia-DNA Accuser Theresa-I created this mess Andrea- His secret was not on the DL it was buried Ursula- What are you running from Carmella-Epidemic of teenage homosexuality Testimonies of Girlfriends- Look how I turned around Dee- The death sentence Instead of enduring your pain any longer, STOP, take a minute and lsiten to what other women have endured in tehir lifetimes, maybe you are going through the same issue(s).
Comments
No comments posted.

Registered users may leave comments.
Log in or register now!