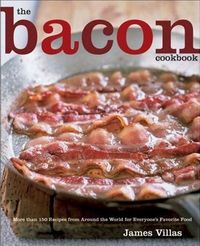 Purchase
Wiley
October 2007
On Sale: October 8, 2007
288 pages
ISBN: 0470042826
EAN: 9780470042823
Hardcover
$35.00
Add to Wish List

Crispy, salty, smoky, sweet—who can resist the allure of bacon? Certainly not food writer extraordinaire James Villas, who's been beguiled by bacon since he was a boy. Now, in this paean to pork bellies, Villas offers 168 ways to savor the flavor of bacon—and proves once and for all that bacon makes every meal better.
Ranging across America and around the globe, Villas gives you scores of intriguing and delicious ways to enjoy bacon that will take you well beyond familiar favorites such as Cobb salad, quiche Lorraine, and spaghetti alla carbonara (though you'll find delectable versions of all of these dishes in the book). You can sample enticing American regional specialties like California Hangtown Fry and Iowa Bacon and Onion Casserole Bread, or feast on a wide range of toothsome international dishes, including Swiss Potato and Bacon Cake, Irish Hot Pot, Philippine Adobo, Chinese Lion's Head, Equadorian Pumpkin Soup, and Portuguese Egg and Bacon Pudding. With recipes for appetizers, breakfasts, soups, salads, sandwiches, casseroles, stews, main courses, vegetables, pasta and rice, and even desserts, you'll discover just how versatile—and forever satisfying—bacon can be.
In recent years, the variety and quality of most supermarket bacon have improved immensely, and many premium American artisanal bacons, as well as delicious fo-reign ones, are now available at finer out-lets and online. Villas provides a complete taxonomy of today's bacon, explaining varieties such as French ventrèche and German Speck and explicating the differences between American, Canadian, Irish, and Chinese lop yuk bacon. Best of all, he offers a complete list of sources to help you discover this world of bacon delights.
If health concerns sometimes make you feel guilty about loving bacon, Villas urges you to relax. Yes, it's high in sodium and fat, but if eaten in moderation or used as a flavoring agent, as it is in many recipes in the book, bacon is a guilt-free indulgence. Illustrated with more than forty sizzling color photographs and featuring Villas's inimitable recipe notes and incisive cooking tips, The Bacon Cookbook will be an indispensable kitchen companion as you explore bacon's many possibilities and pleasures.

Media Buzz
Good Morning America - December 20, 2007
CBS Sunday Morning - September 16, 2007

Comments
No comments posted.

Registered users may leave comments.
Log in or register now!