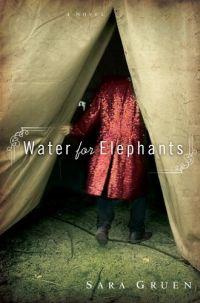 Purchase
An atmospheric, gritty, and compelling novel of star-crossed lovers, set in the circus world circa 1932, by the bestselling author of Riding Lessons.
Algonquin Books
May 2006
335 pages
ISBN: 1565124995
Hardcover
$23.95
Add to Wish List

When Jacob Jankowski, recently orphaned and suddenly adrift, jumps onto a passing train, he enters a world of freaks, drifters, and misfits, a second-rate circus struggling to survive during the Great Depression, making one-night stands in town after endless town. A veterinary student who almost earned his degree, Jacob is put in charge of caring for the circus menagerie. It is there that he meets Marlena, the beautiful young star of the equestrian act, who is married to August, the charismatic but twisted animal trainer. He also meets Rosie, an elephant who seems untrainable until he discovers a way to reach her.

Beautifully written, Water for Elephants is illuminated by a wonderful sense of time and place. It tells a story of a love between two people that overcomes incredible odds in a world in which even love is a luxury that few can afford.

Media Buzz
Diane Rehm Show - NPR - July 18, 2007
Day To Day - July 5, 2006
Good Morning America - July 3, 2006
Today - June 28, 2006
Early Show - June 13, 2006

Awards
American Bookseller Association, Adult Fiction, March 2007

Comments
1 comment posted.
I just finished Water for Elephants. My father used to take me to see the Ringling Bros.Circus train come in. It was beautiful. He was a welder so would get jobs fixing axels and wagon parts. We then got free tickets for the performance. We did not go but instead, took fixed parts back and got invited to eat with the clowns, and performers. It was so exciting. I wanted to be in the circus when I grew up. To this day, I love the smell of elephant poop and hay. Circuses are not that way any more. I loved the book because I could relive my childhood experiences. The treatment of the people and animals did bother me.
(Carol Lunke 10:27pm February 19, 2011)
Registered users may leave comments.
Log in or register now!