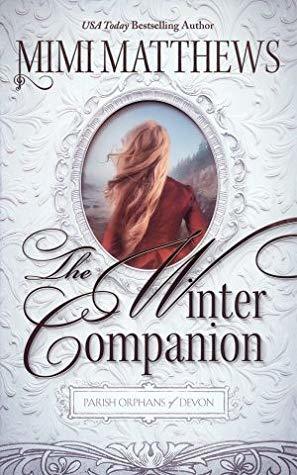 Purchase
Parish Orphans of Devon #4
Perfectly Proper Press
February 2020
On Sale: February 12, 2020
Featuring: Clara Hartwright; Neville Cross
ISBN: 1733056955
EAN: 9781733056953
Kindle: B07XJGRLP8
Paperback / e-Book
Add to Wish List

Romance Historical | Historical
A winter reunion for the orphans brings romance for Neville Cross in Book 4 of Mimi Matthews' USA Today bestselling Parish Orphans of Devon series.

She Needed to be Seen...

As a lady's companion, Clara Hartwright never receives much attention from anyone. And that's precisely how she likes it. With a stormy past, and an unconventional plan for her future, it's far safer to remain invisible. But when her new employer is invited to a month-long holiday at a remote coastal abbey, Clara discovers that she may not be as invisible as she'd hoped. At least, not as far as one gentleman is concerned.

He Wanted to be Heard...

Neville Cross has always been more comfortable with animals than people. An accident in his youth has left him with a brain injury that affects his speech. Forming the words to speak to his childhood friends is difficult enough. Finding the right things to say to a lovely young lady's companion seems downright impossible. But Miss Hartwright is no ordinary companion. In fact, there may not be anything ordinary about her at all.

During a bleak Devon winter, two sensitive souls forge an unexpected friendship. But when Clara needs him most, will Neville find the courage to face his fears? Or is saying goodbye to her the most heroic thing he can do?
Parish Orphans of Devon
Comments
30 comments posted.
Cowboy Cookies - nothing better than warm oatmeal chocolate chips right out of the oven
(Terry Kirgan 6:51am Wednesday)
chocolate chip macadamia . . .MMMMMmmmmm.......
(Martin Bodnar 8:35am Wednesday)
I have two favorites: the yummy melt in your mouth, buttery spritz cookies and Toll House chocolate chip cookies right out of the oven!.
(Laurie Gommermann 9:57am Wednesday)
I love a peanut butter cookie
(Vickie Couturier 10:14am Wednesday)
wow
(Amrit Gaba 10:33am Wednesday)
I love a really good sugar cookie, especially if they have my mom's frosting-
it's not too sweet.
(Lynette Dyer 2:00pm Wednesday)
I love linzer tart cookies!
(Nancy Reynolds 2:02pm Wednesday)
Molasses cookies are my favorite, along with chocolate chip cookies!
(Heidi Robbins 4:18pm Wednesday)
My favorite cookie is oatmeal raisin. If it were Christmas, my favorite would
be a mincemeat cookie. Delicious.
(Judy Westmoreland 4:41pm Wednesday)
I love a good chocolate chip or peanut butter cookie.
(Cynthia St. Germain 5:20pm Wednesday)
Chocolate chunk
(Tracy Urschler 9:11pm Wednesday)
I love cookies. Molasses/ginger snaps cookies are favorites.
An all time favorite I haven't made in a long time are "The
Worlds Best Cookie." They were called such by a friend's
mom who made them for us when I was visiting during
college (over 5 decades ago) and they are quite good. They
are large cookies that are a combination of chocolate chip
and oatmeal cookies. With raisins, walnuts, chocolate
chips, and oatmeal addd to the dough, they are a filling and
delicious snack.
I usually don't worry about how long cookies will keep,
because they are gone within a few days. I do keep them in
an airtight container and I would think they would freeze
pretty well.
(Patricia Barraclough 1:11am Thursday)
My favorite cookie to make is a cut out sugar cookie. I
remember learning how to tint frosting and add doo-dads to
the rolled out cookies after baking with grandma.
(Alyson Widen 12:10pm Friday)
Best ones are Danish Butter Cookies!!!! With coffee
and a Mini Matthews novels!
(Tabita Ramos 9:34am Friday)
My great grandmothers Molasses Cookie and Nutmeg Cut-outs
recipe are a couple of my favs along with my Nan's spritz
cookies.
(Tammy VanScoy 1:58pm Friday)
My favorite cookies are snickerdoodles!!
(Jamie Gillespie 2:15pm Friday)
love making butter cookies so toxic but good at the same time. toxic because they are so good and you can't stop eating them
(Margo Beredjiklian 2:16pm Friday)
Frosted Sugar Cookies
(Nancy Krueger 2:48pm Friday)
No bake peanut butter oatmeal cookies.
(Blanche Nixon 3:16pm Friday)
Cookies are my absolute favorite sweet! I love so many
different kinds, but will always favor any with nuts and
chocolate chips.
(Lisa Sabatini 7:34pm Friday)
Chocolate chip (gooey, not crunchy) would be my fave. But those
molasses cookies sound fabulous!
(Perrianne Askew 8:54pm Friday)
Fresh from the oven chocolate chip.
(Caryl Kane 9:18pm Friday)
Chocolate chip
(Melanie Rosen 10:43pm Friday)
Chocolate chip cookies!
(Martha Lawson 11:44pm Friday)
I like a good peanut butter cookie
(Joy Isley 12:59pm Saturday)
Freshly baked Chocolate chip cookies.
(Anna Speed 1:12pm Saturday)
I love love love a great molasses spice cookie - I bake mine
with coconut palm sugar so that those with sugar issues are
more likely to be able to eat them.
(Michelle Willms 3:55pm Saturday)
Macadamia white chocolate!
(Teresa Warner 9:28pm Saturday)
Snickerdoodles
(Lori Byrd 7:42pm Sunday)
Thank you all for commenting! Best of luck in the giveaway!
xx
(Mimi Matthews 12:44pm yesterday)
Registered users may leave comments.
Log in or register now!