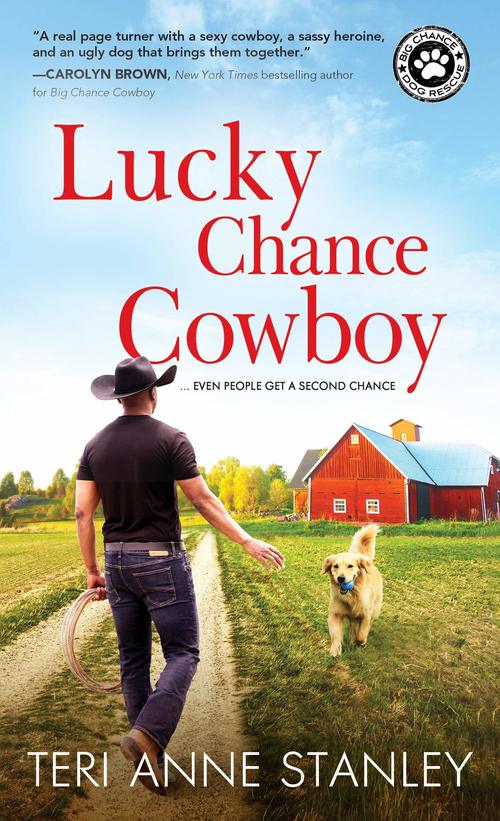 Purchase
Big Chance Dog Rescue #2
Sourcebooks Casablanca
February 2020
On Sale: January 28, 2020
352 pages
ISBN: 1492658022
EAN: 9781492658023
Kindle: B07Y5NK5T1
Mass Market Paperback / e-Book
Add to Wish List

Romance Western | Romance Contemporary
At Big Chance Dog Rescue, everyone can find a forever home
Marcus Talbott is a soldier through and through, and he's not going to let an injury keep him from his Army unit. Sure, his last mission nearly broke his back, but that's nothing his positive attitude and work ethic can't fix, right? In the meantime, he's got a place on the board at the Big Chance Dog Rescue, and flirting with his friend's sassy sister, Emma, is a welcome distraction.
Emma Stern is barely scraping by while working and caring for her elderly grandfather, but she's running out of options—and hope. The last thing she has time for is Marcus and his flirting, sexy as he might be. But every time Emma thinks she's reached the end of her rope, Marcus is there to lend a hand. Maybe there's more to the handsome playboy after all...
Big Chance Dog Rescue
Comments
25 comments posted.
I guess my favorite pop culture dog would be the first one I remember, Rin Tin Tin. That was the first dog I remember. We never really had a dog for a pet when I was a child. Since I married, we have had 10 dogs and fostered many litters for the local animal shelter.
(Patricia Barraclough 5:17am January 31)
I love programs that feature pets. I have to say Eddie from
Frasier was great.
(Nancy Reynolds 10:17am January 31)
Favorite pop culture dogs : Gadget Taco Bell dog & Beethoven from movie Beethoven. As far back as I can remember we have had dogs around.
(Blanche Nixon 5:22pm January 31)
My favorite pop culture dog would probably be Toto from The Wizard of Oz
(Melanie Bracco 6:55pm January 31)
I remember watch Lassie growing up. And Lady & The Tramp.
(Cynthia St. Germain 8:55pm January 31)
I remember we had to go to bed when young after Lassie
lifted her paw in the air at the end of the show. We kids
wished she didn't do that so we could stay up later.
(Alyson Widen 11:58pm January 31)
Lassie and Snoopy are among my top ones, but Buddy from Air Bud is my favorite. Not every dog can play basketball.
(Anna Speed 2:06pm February 1)
Benji was a childhood favorite of mine.
(Sharon Good 2:46pm February 1)
I'm a fan of Pluto.
(Jana B 7:42pm February 1)
loved lassie,,and bengi and Rin Tin Tin
(Vickie Couturier 8:10pm February 1)
Despite the slobber I love Hooch from Turner & Hooch with Tom Hanks :-)
(Tracy Urschler 9:28pm February 1)
I thought Lassie was wonderful when I was a kid.
(Melanie Rosen 10:40pm February 1)
Eddie from Frasier--he is also featured in some American
Greeting cards.
(Anna Budziak 4:34pm February 2)
Santa's Little Helper from Simpsons
(Martin Bodnar 8:03am February 3)
I love stories with dogs (& cowboys, too)!
(Maria Proctor 4:36pm February 3)
Rin Tin Tin and Lassie
(Sherry Haut 3:46pm February 4)
My favorite is Lassi. I grew up watching that dog doing
amazing things and I wanted a dog just like him.
(Lynne Brigman 9:15pm February 4)
It would have to be Lassie
(Jean Patton 5:51pm February 5)
Scooby Doo...he is just awesome! ;-)
(Jamie Gillespie 8:33pm February 5)
Snoopy!
(Rosie Hoskins 8:46pm February 6)
Haichiko who showed up daily for 9 years to wait for his owner after the
owner died
(Sandy Klocinski 4:57pm February 8)
I loved Brandon the Wonder Dog from Punky Brewster
(Victoria Kondovski 7:50pm February 8)
Benji was my favorite as a kid.
(Lori Byrd 5:26pm February 9)
Benji and Lassie were my favorites.
(Heather Amos 2:27pm February 10)
Pluto
(Colleen Conklin 8:34pm February 10)
Registered users may leave comments.
Log in or register now!