Meg Rosoff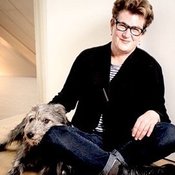 My biography will prove incredibly inspiring to anyone who wasn't born in Beijing or Kathmandu, wasn't sent to school in Switzerland or Peru, didn't marry a diplomat at 19, and doesn't speak 9 languages.
I was born in Boston, in 1956, second of four sisters, grew up in the Boston suburbs, went to ordinary suburban schools for most of my youth, and was rejected from Princeton in 1974 so went to Harvard instead.
I didn't like Harvard much, but Princeton would have been worse, though I didn't know that then.
After three years of thinking 'I've got to get out of here', I applied to art school in London, was accepted for a year studying sculpture, packed a bag and got on a plane. I stayed in a bed and breakfast in Knightsbridge until I found a room in a flat in Camden Town, with an architect who later became my boyfriend. Art school was a disaster (I was obviously a writer not a sculptor, but I didn't know that then, either) but the rest of the year was a revelation. There was an unbelievable amount of fun to be had in London in 1977-78. I'm still reeling.
Eventually I returned to the US to finish my degree, moved to New York City, spent ten short years working in publishing and advertising, and then one day quit my job, told all my friends I was going back to London for three months, and have been here ever since.
My husband is an English painter and my daughter is a mongrel with her heart in the American suburbs and the accent of a North London fishmonger. After a fifteen-year stint in advertising (which I recommend to no one) my youngest sister died of breast cancer. And I thought if I was going to write a book, I'd better do it soon because life is short.
So I did.
Log In to see more information about Meg Rosoff
Log in or register now!
Series
Books:
Jonathan Unleashed, June 2017
Trade Size
Jonathan Unleashed, July 2016
Hardcover
There Is No Dog, February 2012
Hardcover
What I Was: A Novel, January 2009
Paperback
Just in Case, February 2008
Paperback
How I Live Now, August 2004
Hardcover