Lani Diane Rich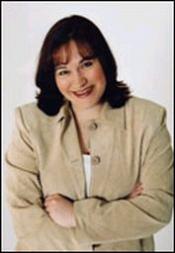 Pseudonym: Lucy March.

Age: I'm in my early thirties. I'm not being coy; it's just that by the time I update this information, my age will have changed. By the time I vacuum the rug, my age will have changed. For those of you who care, get out your calculators. I was born on June 7th, 1971.
Why I write: God help me, I can't remember who said it, but there's a famous quote about "Writers write because they can't do anything else." That's me. There are other things I can do - not many, but some - but writing is the only thing I couldn't stop doing. So, there you go.
Where I live: Syracuse, NY. Used to live in Anchorage, Alaska. They're not as different as one might think...
The basics: One husband. Two kids. No dog. One cat. No fish. No turtles. No rodents. Although there is a colony of ants I can't seem to get rid of. Someone gave me the advice of leaving a saucer of wine out for them. They're attracted to the sugar, they fall in, they get drunk, they have indiscriminate sex, then they drown. Or at least, that was the theory. I'm finding they just keep bugging me for more wine, and giving me crap when I buy the cheap stuff. Moral of the story - if someone advises you to get an insect drunk, ignore them.
Semi-interesting Lani factoids: For my husband's birthday in May 2002, I appeared on NPR's Car Talk program and nationally confessed to uncontrollable backseat driving. They used to have it on the website, but I think they took down their "classic clips" section. Can't say I'm ambivalent about that...
If you're up late watching The Discovery Channel or National Geographic Explorer, and you see something about snakes and/or bullfrogs, and there's a hilarious white- haired guy named Cecil Schwalbe chatting you up - that's my father-in-law. Isn't he adorable?
My mother-in-law, Carol Lutyk Schwalbe, was an editor for National Geographic for something like 30 years. Her name was on the masthead of a piece of American history. World history. Very cool.
At the age of fifteen, I decided I wanted to attend Syracuse University because I liked their basketball team. Eighty thousand dollars later, I can see why my mother found that a tad unsettling.
At the age of 22, I decided on a whim - since I couldn't afford Syracuse tuition anymore - to go up to Alaska and hurl fish with my best friend. I met my husband there over frozen salmon.
In 1995, I got a temp job as a pyrotechnician at Old Tucson Studios for their three-week Halloween-themed Nightfall extravaganza. My job was to prepare and set off the explosives. I almost blew up one of the can-can girls and didn't get fired. During the days, I assisted in the wardrobe/props department, where I had the once-in-a- lifetime opportunity to touch Michael Landon's pants.
Series
Books:
Dogs And Goddesses, February 2009
Mass Market Paperback
Wish You Were Here, November 2008
Mass Market Paperback
Crazy in Love, October 2007
Mass Market Paperback
The Comeback Kiss, May 2006
Paperback
Ex and the Single Girl, November 2005
Paperback
Maybe Baby, June 2005
Paperback
Time Off For Good Behavior, October 2004
Trade Size