Laura Anne Gilman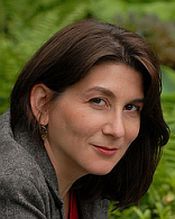 Pseudonym for Anna Leonard.

Born in the late 1960's in suburban New Jersey, Laura Anne endured only moderate trauma – and some good times – before escaping to Skidmore College. After graduation, given the choice between grad school and employment, the lure of a paycheck took her to NYC and a career in publishing, while working nights and weekends to get her writing career started.
In 2004, she and corporate America decided they needed a break from each other. Her first original novel contract in-hand, Laura Anne became a full-time freelancer, and never looked back.
She is the author of the Cosa Nostradamus books for Luna (the "Retrievers" and "Paranormal Scene Investigations" series), a YA trilogy for HarperCollins, and the forthcoming Vineart War books from Pocket, while continuing to write and sell short fiction. She also writes paranormal romances for Nocturne as Anna Leonard.
Laura Anne is also an amateur chef, oenophile, and cat-servant.
She lives in New York City, where she also runs d.y.m.k. productions.
Series
Books:
Red Waters Rising, July 2018
Paperback
The Cold Eye, March 2018
Trade Size
Heart Of Briar, August 2013
Paperback
Dragon Justice, August 2012
Paperback
Tricks of the Trade, December 2011
Paperback
The Shattered Vine, October 2011
Hardcover
Pack of Lies, January 2011
Paranormal Scene Investigations
Paperback
Flesh and Fire, October 2010
Mass Market Paperback
Running With The Pack, June 2010
Paperback
Hard Magic, May 2010
Mass Market Paperback
Blood From Stone, May 2009
Retrievers, #. 6
Paperback
Curse The Dark (Retrievers, Book 2), March 2009
Mass Market Paperback
Bring It On (Retrievers), March 2009
Mass Market Paperback
Free Fall, May 2008
Retrievers #5
Trade Size
Burning Bridges, June 2007
Retrievers
Trade Size
Bring it On, July 2006
Miniseries: A Retrievers Novel
Trade Size
Staying Dead, June 2006
Miniseries: A Retrievers Novel
Paperback
Curse The Dark, July 2005
A Retrievers book
Trade Size
Staying Dead, August 2004
A Retrievers book
Trade Size