Alesia Holliday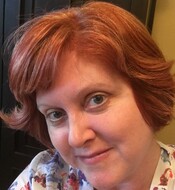 Pseudonym for Jax Abbott.
Pseudonym: Alyssa Day.

Alesia Holliday is a 'recovering' attorney turned best- selling author. Alesia's first novel, AMERICAN IDLE, launched Dorchester Publishing's new trade paperback chick lit line, Making It, in August, 2004. Alesia now writes chick lit for Berkley Trade; her titles NICE GIRLS FINISH FIRST and THE NAKED TRUTH, an anthology, will be released in 2005.
Additionally, Alesia writes young adult novels she calls chick lit for teens, under her pen name, Jax Abbott. Her first , SUPER WHAT?, an August, '04 release from Dorchester Smooch, was named to the Young Adult Librarian Society of American's 2005 List of Recommended Reads for Reluctant Readers. SUPER WHAT? and her second YA title, SUPER 16 (Feb., '05) are being considered for a possible TV series.
Finally, Alesia is starting a whole new subgenre with her chick lit legal thrillers. Berkley Prime Crime will publish the first in early 2006 -- MURDER BY MASS TORT. In her spare time, Alesia is a co-founder and past Vice President of the online group, Chick Lit Writers of the World. She and her family live in Florida, but will soon be moving to Virginia.
Series
Books:
The Naked Truth, September 2007
Paperback (reprint)
Seven Ways to Lose Your Lover, June 2006
Trade Size
Blondes Have More Felons, March 2006
A December Vaughn Mystery
Paperback
The Naked Truth, November 2005
Trade Size
Flirting with Pride & Prejudice, September 2005
Trade Size
Nice Girls Finish First, July 2005
Trade Size
Bewitched, Bothered and BeVampyred, April 2005
e-Book
American Idle, August 2004
Trade Size
Blonde Justice: A December Vaughn Mystery (December Vaughn Mysteries), November 0000
Paperback