Katie Fforde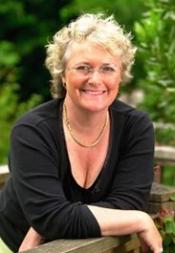 Katie Fforde has lived in Stroud for more than twenty years. She didn't start writing until she had moved there and had the third of her three children.
Her early married life was spent on the water, either at sea with her husband, or with him running a narrow-boat hotel. From there they moved to Wales, where they had two children, an Irish Wolfhound, two cats and five hens and narrowly avoided keeping goats. Leaving behind the hens, they moved to Stroud where they had another baby, and have lived ever since.
Most of her experiences -- however minor -- tend to end up in her books, as she hates wasting anything. Nowadays, however, she has to turn to research more and more as she's running out of things in her own life to write about.
While her hobbies include housework and ironing, she has little time for them, as she is too busy with the important things in life like gardening, shopping and watching television.
Series
Books:
A Perfect Proposal, April 2013
Hardcover
Love Letters, January 2011
Hardcover
Practically Perfect, April 2008
Hardcover
Second Thyme Around, July 2002
Paperback