Phillip DePoy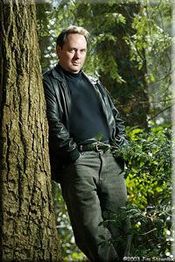 Phillip DePoy is the EDGAR award winning playwright of EASY (New York's vote for best mystery play in the country). He is also the author of 10 novels, 2 published plays, and 37 theatre pieces that have seen production throughout the United States. His play LAMB ON FIRE was produced in New York. His Dell mystery novels, featuring Atlanta character Flap Tucker, have been called the best regional detective fiction on the market today. TOO EASY was a Shamus Award finalist.
He served as Artistic Director for Atlanta's THEATRICAL OUTFIT when it achieved national fame for such acclaimed work as BEOWULF, APPALACHIAN CHRISTMAS (which he wrote), HAMLET THE MUSICAL (for which he wrote the music), and the first new translation of NO EXIT since its original English version. Review of his work appeared in The Atlantic Monthly, American Theatre, and London's Plays and Players. He has directed, composed music, or written plays for most theatres in Atlanta and throughout the region for the past twenty-five years.
Recent reviews of his fiction call his Fever Devilin novels " the best regional fiction being written in America today." PUBLISHER'S WEEKLY calls the newest in the series, THE DRIFTER'S WHEEL, "engaging throughout; solidly enjoyable" and insists that it will "keep readers guessing until the end." KIRKUS refers to DePoy's writing as "Storytelling at its best: a beguiling mystery that's almost impossible to figure out or put down. "
The author is currently director of theatre for Clayton State University. His play TURNED FUNNY recently received 3 SUZI awards (Atlanta's Tony Awards).
Series
Christopher Marlowe
Books:
The English Agent, March 2017
Christopher Marlowe
Hardcover
A Prisoner in Malta, February 2016
Christopher Marlowe
Hardcover
December's Thorn, February 2013
Hardcover
A Corpse's Nightmare, November 2011
Fever Devilin #6
Hardcover