Penny Jordan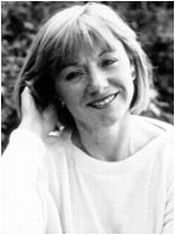 Penny Jordan passed away December 31, 2011.
Penny Jordan was a storyteller long before she began to write romantic fiction. At the age of eight, she was creating serialized bedtime stories, featuring make-believe adventures, for her younger sister who was always the heroine.
After reading a serialized Mills & Boon book in a women's magazine, she fell in love with the hero. Penny was eleven and she quickly became an avid fan.
Her goal, when writing romance fiction, is to provide readers with an enjoyment and involvement similar to that she experienced from her early reading. She likes nothing more than to hear her fans share her love: romance.
She works from home, in her kitchen, surrounded by four dogs and two cats, and welcomes interruptions from her friends and family.
Penny believes in the importance of love, including the benefits and happiness it brings. It's the special bonds linking Harlequin readers and writers that she personally treasures!
Log In to see more information about Penny Jordan
Log in or register now!
Series
Books:
Woman to Wed?, August 2011
Paperback
The Wealthy Greek's Contract Wife, July 2010
Mass Market Paperback
The Sicilian's Baby Bargain, June 2009
Mass Market Paperback
The Sicilian Boss's Mistress, May 2009
Mass Market Paperback
Captive At The Sicilian Billionaire's Command, April 2009
Mass Market Paperback
Virgin For The Billionaire's Taking, September 2008
Mistress to a Millionaire
Mass Market Paperback
The Sheikh's Blackmailed Mistress, July 2008
Arabian Nights
Mass Market Paperback
The Blackmail Baby, March 2008
Paperback (reprint)
Unwanted Wedding, March 2008
Paperback (reprint)
Second-Best Husband, March 2008
Paperback (reprint)
A Reason For Marriage, March 2008
Paperback (reprint)
A Royal Bride At The Sheikh's Command, February 2008
The Royal House of Niroli
Paperback
It Happened At Christmas, October 2007
Mass Market Paperback
The Future King's Pregnant Mistress, July 2007
The Royal House Of Niroli
Mass Market Paperback
Taken by the Sheikh, February 2007
Miniseries: Arabian Nights
Paperback
The Christmas Bride, December 2006
Miniseries: Dinner at 8
Paperback
Master of Pleasure, October 2006
Miniseries: UnCut
Paperback
Prince of the Desert, July 2006
Paperback
The Italian Duke's Wife, April 2006
By Royal Command
Paperback
Blackmailing the Society Bride, December 2005
Harlequin Presents 2505
Paperback
Possessed by the Sheikh, April 2005
Paperback
Boardroom to Bedroom, February 2005
Paperback
For Love or Money: 2 Novels in 1, July 2003
Paperback