Eliot Pattison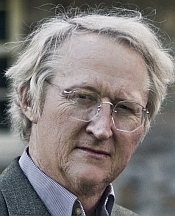 Photo Credit: Jerry Bauer

Blogging at Fresh Fiction
Eliot Pattison | More Real than Reality
February 18, 2015
One of the great gifts I receive as a writer are the messages from readers who say they never truly understood the situation in Tibet Read More...
Eliot Pattison | The Frightening Normalcy of Apocalypse
May 17, 2011
In my many dialogues about ASHES OF THE EARTH I have discovered a remarkable, though Read More...
Edgar Award winning Eliot Pattison has been described as a "writer of faraway mysteries," a label which is particularly apt for someone whose travel and interests span a million miles of global trekking, visiting every continent but Antarctica. An international lawyer by training, Pattison first combined his deep concerns for the people of Tibet with his interest in fiction writing in The Skull Mantra, which launched the popular Inspector Shan series. Pattison's fascination with the 18th century American wilderness and its woodland Indians led to the launch of his second critically acclaimed Bone Rattler series. The author's newest work, Ashes of The Earth, marks the launch of his third series, set in post-apocalyptic America. A former resident of Boston and Washington, Pattison resides on an 18th century farm in Pennsylvania with his wife, three children, and an ever-expanding menagerie of animals.
Series
Bone Rattler
Books:
Skeleton God, March 2017
Hardcover
Soul of the Fire, February 2017
Trade Size
Blood of the Oak, March 2016
Bone Rattler #4
Hardcover
Soul Of The Fire, December 2014
Hardcover
Original Death, August 2013
Hardcover
Ashes Of The Earth, April 2011
Hardcover
Eye Of The Raven, January 2011
Trade Size (reprint)
The Lord Of Death, June 2010
Inspector Shan Tao Yun
Trade Size (reprint)
Water Touching Stone, October 2009
Inspector Shan Tao Yun
Trade Size (reprint)
Bone Rattler, January 2009
Trade Size (reprint)
Prayer Of The Dragon, December 2008
Inspector Shan Tao Yun
Trade Size (reprint)
The Skull Mantra, October 2008
Inspector Shan Tao Yun
Trade Size (reprint)
Beautiful Ghosts, April 2005
Inspector Shan Tao Yun
Trade Size (reprint)
Bone Mountain, May 2004
Inspector Shan Tao Yun
Trade Size (reprint)