Deborah Raney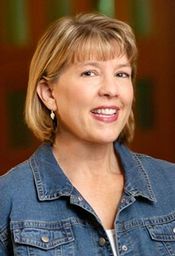 From the time Deborah Raney opened the cover of Tip and Mitten in first grade, she has loved to read. Growing up on a farm in Kansas, Deb was inspired by Laura Ingalls Wilder's popular Little House on the Prairie series and first tried her hand at novel writing at the age of twelve. However, after accidentally putting airplanes in a story set in the 1700's, Deb tore up her manuscript in frustration and vowed never to write historical fiction again. More than a quarter of a century passed before she dared to attempt another book.
After spending two happy decades as a stay-at-home Mom, Deborah finally began work on her first novel—a contemporary story—after an intriguing discussion about Alzheimer's disease with her husband and teenage children. Drawing on her experiences working in a New York nursing home early in her marriage, Deborah crafted a fictional account of one family's struggle with Alzheimer's disease. A Vow to Cherish was published in 1996 and won the Angel Award given by Excellence in Media.
A Vow to Cherish went on to become the inspiration for World Wide Pictures' highly acclaimed film of the same title. Deborah and her husband attended the Hollywood premiere of the made-for-television movie in June 1999 and it aired throughout North America that September and again in December 2004. The movie is now available on VHS and DVD in seven languages. Deborah expanded and updated the novel for the Steeple Hill imprint in 2006 and it is now available in mass market size as well.
Deborah's novels have won various awards—the prestigious RITA Award from Romance Writers of America, the HOLT Medallion, the National Readers Choice Award, American Christian Fiction Writers Book of the Year, Faith, Hope & Love Inspirational Readers Choice winner, and Romantic Times Inspirational Novel of the Year.
Deborah's novel, Over the Waters, was inspired by her parents' work with a children's home near Port au Prince, Haiti and was released by the Steeple Hill imprint in October 2005.
Deborah writes from her home near a small town in Kansas. She and her husband, Ken Raney, have four children and are enjoying the addition of grandchildren to their family.
Series
Books:
Home at Last, March 2017
Paperback
Close to Home, June 2016
Hardcover
Home To Chicory Lane, August 2014
Paperback
Almost Forever: A Hanover Falls Novel, May 2010
Paperback
Over The Waters, May 2008
Paperback
Leaving November (Clayburn Novels Series #2), March 2008
Paperback
Within This Circle, November 2007
Sequel to A Vow to Cherish
Paperback
A Vow to Cherish, October 2007
Paperback (reprint)
A Vow to Cherish, June 2006
Trade Size