Kristine Grayson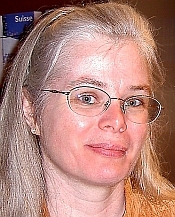 Blogging at Fresh Fiction
Kristine Grayson | Writing to Reviews
September 21, 2012
This summer, a fiction writer/blogger declared that all writers must revise their books according to reader reviews. Now let me be the first to Read More...
Kristine Grayson | Following the Trend
October 19, 2011
It looks like I'm just following the crowd with my fairy tale books. As I write this, two network TV shows about fairy tales Read More...
Kristine Grayson | Roads Less Traveled
June 26, 2011
Once Upon A Time, I wanted to be a historical romance writer.  I even majored in history in college, although I dropped out of the Read More...
Pseudonym for Kristine Kathryn Rusch.
Pseudonym: Kris DeLake.

Kristine Grayson always wanted to be a romance writer when she grew up. She became one in the late 1990s with the publication of her first romance novel, Utterly Charming. Since then, she has published five more novels, including Absolutely Captivated and Totally Spellbound.
Her work has won the Romantic Times Reviewers Choice Award, and she has been nominated for several other awards. Publishers Weekly has called her work "a delight," and Best Reviews labeled her "the reigning queen of paranormal romance."
Series
Story Bundle May 2014
Books:
Fiction River: Christmas Ghosts, June 2013
Paperback
Charming Blue, September 2012
Paperback
Thoroughly Kissed, June 2012
Paperback
Up On The Rooftop, January 2012
Paperback
Utterly Charming, October 2011
Paperback
Wickedly Charming, May 2011
Mass Market Paperback
Simply Irresistible, March 2011
Fates Trilogy #1
e-Book
Completely Smitten, February 2011
Trade Size
The Trouble With Heroes, November 2009
Paperback
Totally Spellbound, August 2005
Paperback
Absolutely Captivated, January 2004
Paperback