Irene Radford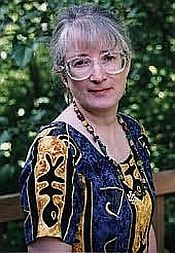 Pseudonym: Phyllis Ames.

Irene has been writing stories ever since she figured out what a pencil was for. Combining a love for Medieval history and a fascination with paranormal, Irene concentrated on fantasy writing.
In her spare time, Irene enjoys lacemaking and is a long time member of an international guild. Check out THE LONELIEST MAGICIAN, The Dragon Nimbus #3 for an exploration of her favorite obsession. A piece of magic lace is, of course the obvious patch for a dragon wing. She has published numerous magazine articles about the history and technique of lacemaking as well as self publishing two lacemaker's fairy tales with lace patterns that can be made up to illustrate the stories. When she isn't writing or making lace she enjoys exploring the back roads and many museums of the Pacific Northwest.
For many years Irene was active in Ballet du Lac, a semi- pro ballet company. She taught ballet to youngsters in her local community school program. At the same time she led a Cub Scout pack and frequently found her home the neighborhood preferred playground for many more children than she thought possible.
Irene has held many full and part time jobs from Insurance underwriter to assistant curator of a museum to clerk in a fabric store. Writing is now her "day job."
A native Oregonian living in Oregon, Irene is a member of an endangered species. As a service brat, she lived in a number of cities throughout the country until returning to Oregon in time to graduate from Tigard High School. She earned a B.A. in history from Lewis and Clark College, where she met her husband. Historical research has remained a lifelong passion and finally became a part of her job with the historical fantasy series Merlin's Descendants. They currently make their home in Welches, Oregon where they share their back yard with deer, coyotes, bear, raccoons and too many bird species to mention.
Her first sales in book length fiction is the DRAGON NIMBUS SERIES, beginning with THE GLASS DRAGON.
The three books in The Dragon Nimbus History Series are currently on the shelves as well. The Renegade Dragon was released in November 1999.
THE WIZARD'S TREASURE The Dragon Nimbus #4 (October 2000) ties up many of the loose ends of both series.
Now she's working on the Stargods triology set in the same world. The Hidden Dragon is on the stands. The Dragon Circle will be released late next year. The third book is as yet untitled.
GUARDIAN OF THE BALANCE, Merlin's Descendants #1 deals with Merlin's daughter and her stormy relationship with both her dad and King Arthur. This historical fantasy has been called an important addition to Arthurian literature. GUARDIAN OF THE TRUST, Merlin's Descendants #2 takes a different look at how the Magna Carta came to be. The third book of the series GUARDIAN OF THE VISION, takes us through the early years of Queen Elizabeth I. The next installment, GUARDIAN OF THE PROMISE will be released April 2003 in hardcover. This book takes children from VISION who must deal with the Spanish Armada.
Irene has three published shortstories and a fourth on the way. "The Sword of Herakles" in the Olympus anthology edited by Martin Greenburg and Bruce Arthurs spins into the Merlin's Descendants series. "The Divi" is in the Treachery and Treason anthology in March 2000, a stand alone piece -- for the time being. "Draconis Ex Machina" reveals events leading up to THE GLASS DRAGON. It was in the DAW 30th Anniversary Fantasy Anthology, hardcover May 2002.
Another short stories will be forthcoming in the Space Station anthology edited by John Helfers from DAW books.
Series
Books:
A Spoonful of Magic, November 2017
Mass Market Paperback
The Wandering Dragon, August 2014
Paperback
The Silent Dragon, February 2013
Paperback
Chicory Up, May 2012
Paperback
Thistle Down, June 2011
Paperback
The Dragon Nimbus NovelsVolume II, December 2007
Dragon Nimbus Novels)
Paperback (reprint)