Barbara Bretton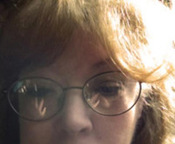 Blogging at Fresh Fiction
Barbara Bretton | Escape Isn't A Dirty Word
June 5, 2008
I did something yesterday I haven't done in a very long time: I took myself out on a date. A movie date, to be Read More...
Barbara Bretton is the USA Today bestselling, award-winning author of more than 40 books. She currently has over ten million copies in print around the world. Her works have been translated into twelve languages in over twenty countries.
Barbara has been featured in articles in The New York Times, USA Today, Wall Street Journal, Romantic Times, Cleveland Plain Dealer, Herald News, Home News, Somerset Gazette,among others, and has been interviewed by Independent Network News Television, appeared on the Susan Stamberg Show on NPR, and been featured in an interview with Charles Osgood of WCBS, among others.
Her awards include both Reviewer's Choice and Career Achievement Awards from Romantic Times; Gold and Silver certificates from Affaire de Coeur; the RWA Region 1 Golden Leaf; and several sales awards from Bookrak. Ms. Bretton was included in a recent edition of Contemporary Authors.
Barbara loves to spend as much time as possible in Maine with her husband, walking the rocky beaches and dreaming up plots for upcoming books.
Series
Home Front | The Crosse Harbor Time Travel Trilogy
Books:
Maybe This Time, November 2014
e-Book (reprint)
Sentimental Journey, October 2014
Home Front #1
e-Book
Stranger in Paradise, October 2014
Home Front #2
e-Book
Somewhere in Time, July 2014
The Crosse Harbor Time Travel Trilogy #1
e-Book
The Princess and the Billionaire, February 2014
Billionaire Lovers - #2
e-Book (reprint)
Spells & Stitches, December 2011
Sugar Maple # 4
Paperback
Spun by Sorcery, November 2010
Chloe Hobbs #3
Trade Size
Laced With Magic, August 2009
Paperback
Casting Spells, November 2008
Trade Size
The Reluctant Bride, June 2008
Safe Haven
Paperback (reprint)
Just Desserts, March 2008
Paperback
A Wedding in Paris, June 2007
Paperback (reprint)
Just Like Heaven, March 2007
Paperback
And The Envelope, Please..., February 2006
Signature Series
Paperback
Someone Like You, July 2005
Paperback
Forever In Time, January 2005
Hardcover (reprint)
Chances Are, September 2004
Paperback