Ian Rankin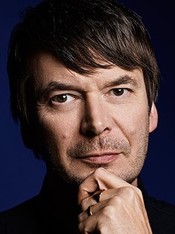 Photo Credit: Ian Rankin

Bestselling crime-writer Ian Rankin was born in Fife, Scotland, in 1960. He was educated at Edinburgh University. On graduating he worked for the civil service, later working as a researcher and journalist.
His first published book was The Flood (1986). Knots and Crosses (1987) was the first in a series of novels featuring Inspector John Rebus and set in contemporary Scotland. Other novels in the series include Hide and Seek (1991), Strip Jack (1992), A Good Hanging (1992), The Black Book (1993), Mortal Causes (1994), Black and Blue (1997) (winner of the Crime Writers' Association Macallan Gold Dagger for Fiction), Let It Bleed (1995), The Hanging Garden (1997), Tooth and Nail (1998), Dead Souls (1999), Set in Darkness (2000), The Falls (2001), Resurrection Men (2002), A Question of Blood (2003), and Fleshmarket Close (2004). His latest Rebus novel is The Naming of the Dead (2006), winner of the 2007 British Book Awards Crime Thriller of the Year. Several of these novels have been adapted for television, starring John Hannah as Rebus. Three of Rankin's novels were written under the pseudonym Jack Harvey: Witch Hunt (1993), Bleeding Hearts (1994) and Blood Hunt (1995).
Ian Rankin is married with two sons, and lives in Edinburgh, Scotland. He was awarded an OBE in 2002.
Series
Books:
Even Dogs in the Wild, January 2016
Paperback
Saints of the Shadow Bible, January 2014
Hardcover
Standing In Another Man's Grave, January 2013
Hardcover
The Impossible Dead, November 2012
Paperback
The Complaints, March 2011
Hardcover
Watchman, December 2007
Hardcover
The Naming of the Dead, April 2007
Inspector John Rebus Series, #16
Hardcover
Bleeding Hearts, November 2006
Hardcover
Blood Hunt, March 2006
Hardcover