Susan Edwards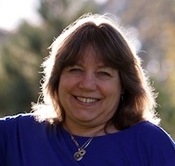 Blogging at Fresh Fiction
Susan Edwards | Myth, Magic & Wonder: Discoveries
November 21, 2011
A couple days ago, I redesigned my banner for my website and sent it to my son who designed my website.  I loved what I Read More...
Pseudonym: Sydney St. Claire.

SUSAN EDWARDS resides in California with her husband of nearly thirty five years. She love animals and has 5 cats include two two year old kittens (they are her babies) as well as two adorable Chiweenie pups named JJ and Abbey. The 4 youngsters in the pet department make her smile, laugh and sometimes groan each and every day. Recently, she got temporary (ha!) custody of my daughter's 3 year old, Great Pyrenees named Shasta. She also has one rat who sadly won't be with her much longer.
Susan also enjoys crafts of all sorts including quilting, sewing, cross stitch and knitting. Knitting and crochet are her current passions. She is also an avid gardener. Through her love of all things Native American, she designed a 26 foot Medicine Wheel Garden. It is a big project but one that she loves, except when the weeds threaten. Right now it's uncertain who is winning this war....
You can follow her progress on her website (that page coming soon). Camping, fishing, biking and hiking (when not hot) are other outdoor pursuits she and her husband enjoy.
She is of course, an avid reader and hates cooking and housework. While writing, she listens to a wide variety of music, including Neil Diamond, Celtic, Native American, Classical, and mood music (bagpipes and howling wolves drive my family nuts). Her current favorites are Blackmore's Night and David Lanz.
Bio
Native American/Western romance writer Susan Edwards is the author of the popular "White" Series. She was nomination for Romantic Times Career Achievement Award for Western Historical and Reviewer's Choice Best Book Award. She is very pleased to be able to offer to her readers her White series in Digital Format. Her SpiritWalker series will be released in digital format starting with Summer of the Eagle in Summer 2013. Susan is also working on a new White book, a reunion of characters that she hopes will be available December 2013.
Log In to see more information about Susan Edwards
Log in or register now!
Series
White series
Books:
White Christmas Reunion, December 2015
e-Book
White Deception, April 2012
White Series #10
e-Book (reprint)
White Dove, April 2012
White Series #9
e-Book (reprint)
White Vengeance, April 2012
White Series #11
e-Book (reprint)
White Wolf: Book Five of Susan Edwards' White Series, February 2012
White Series #5
e-Book
White Flame: Book Seven of Susan Edwards' White Series, February 2012
White Series #7
e-Book
White Nights: Book Six of Susan Edwards' White Series, February 2012
White Series #6
e-Book
White Dreams: Book Eight of Susan Edwards' White Series, February 2012
White Series #8
e-Book
White Dawn, December 2011
White Series #1
e-Book (reprint)
White Shadows, December 2011
White Series #3
e-Book (reprint)
White Dusk, December 2011
White Series #2
e-Book (reprint)
White Wind, December 2011
White Series #4
e-Book (reprint)
Summer of the Eagle, April 2007
Mass Market Paperback
White Deception, November 2004
Hardcover

Videos
Click Title to Play
White Dawn