Mona Sedrak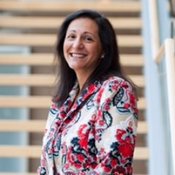 Mona Sedrak lives a double life. By day, she is a suit-wearing, prim and proper, professor, administrator, researcher, and lecturer. By night, she is a PJ wearing dreamer and writer of books that make people sigh, smile, cry, laugh, and fall in love. She lives in Ohio with her husband of thirty-two years, a cranky, geriatric maltipoo, and an obnoxious Amazon parrot who runs the house and terrifies its inhabitants.
Mona discovered the joy and escapism that comes from reading at the age of twelve and swears books saved her life and her sanity. Through reading, she has travelled the globe and learned all kinds of equally useful and useless skills such as: crocheting, the proper way to eat a pomegranate, carve a watermelon, or bathe an elephant. These skills she has passed down to her two daughters who are incredibly supportive, but often wish she had a wider scope of hobbies.
Mona has a long publishing history in academia, but she started writing fiction recently.
Series
Books:
Six Months, November 2018
e-Book