Dara Carr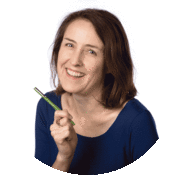 Dara Carr grew up in the Chicago area but she and her brothers spent most childhood summers in Saskatchewan with their grandmother. Nana, a curling champion, was also known for chasing after a bear that had stolen a loaf of bread from her. Bear: zero. Nana: loaf of bread, slightly worse for the wear. When Nana wasn't busy confronting wild animals, she loved to read, and she passed on her love of mysteries to Dara.
Although Dara tries to create characters unlike herself, by the time she's finished a story or book she can see both differences and similarities. The protagonist of Dara's novel, Angela Cray, has much better hair than Dara does and is way more fastidious about nail care. Angela also gets into a lot more trouble than Dara does. But Angela and Dara share a love of craft cocktails. And, like Angela, Dara has occasionally wondered if she was truly related to her adored mother. Dara's mom was a tomboy who played hockey competitively at the University of Saskatchewan. Dara was a figure skater who, as a child, loved nothing better than to play with dolls.
Presently, Dara lives in Maryland. Her short fiction credits include Alfred HItchcock's Mystery Magazine (forthcoming), Ellery Queen's Mystery Magazine, and Shotgun Honey. She also pretty much fabricated the horoscopes she wrote for the college newspaper (but don't tell anyone!). Angela Cray Gets Real is her first novel. An earlier version of the manuscript was a finalist for a Freddie Award for Writing Excellence from the Florida Chapter of the Mystery Writers of America.
Series
Angela Cray Mystery
Books:
Angela Cray Gets Real, January 2018
An Angela Cray Mystery #1
e-Book