Nicola Cameron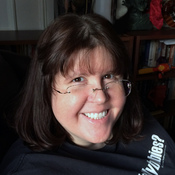 Click here to join me for a weekend of fun at READERS & 'RITAS, Nov. 9-11, 2018 in Allen, TX.
Nicola Cameron is a married woman of a certain age who really likes writing about science fiction, fantasy, and romance. When not writing about those things, she likes to make Stuff™. And she may be rather fond of absinthe.
While possessing a healthy interest in sex since puberty, it wasn't until 2012 that she decided to write about it. The skills picked up during her SF writing career transferred quite nicely to speculative romance. Her To Be Written work queue currently stands at around nineteen books, and her mojito-sodden Muse swans in from Bali every so often to add to the list, cackling to herself all the while.
Her eco-fantasy romances Storm Season, Breaker Zone, and Deep Water (Books 1-3 in the Olympic Cove series), Romance on the Go™ novelettes "A Boon by Moonlight" and "Grading the Curve", coyote shifter paranormal romance Trickster, and fast-paced SF caper romance Two to Tango are are all available from Evernight Publishing. Her high fantasy romance Empress of Storms and its sequel Palace of Scoundrels, cyborg romance Degree of Resistance, and paranormal romances Shifter Woods: Howl and Shifter Woods: Roar are available from Amazon, Barnes & Noble, Kobo, iBooks, Google Play, and a variety of other online retailers.
Nicola plans to continue writing until she drops dead over her keyboard or makes enough money to buy a private island and hire Rory McCann as her personal trainer/masseur, whichever comes first.
Log In to see more information about Nicola Cameron
Log in or register now!
Series
Esposito County Shifters | Two Thrones | Olympic Cove | Pacifica Rising
Books:
Shifter Woods: Snarl, September 2018
Esposito County Shifters #3
e-Book
Storm Season, June 2018
Olympic Cove #1
e-Book (reprint)
To My Muse, May 2018
e-Book
Red Robin and the Huntsman, December 2017
Two Thrones #3.5
e-Book
Lady of Thorns, November 2017
Two Thrones #3
Paperback
Shifter Woods: Roar, July 2017
Esposito County Shifters #2
e-Book
Shifter Woods: Howl, April 2017
Esposito County Shifters #1
e-Book
Degree of Resistance, February 2017
Pacifica Rising #1
Paperback
Palace of Scoundrels, October 2016
Two Thrones #2
e-Book
Empress of Storms, November 2015
Two Thrones #1
Paperback