Lindsey Frydman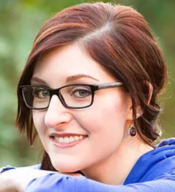 Blogging at Fresh Fiction
Lindsey Frydman | Why We Need New Adult Books
March 21, 2017
When new adult books exploded a handful of years ago, writers jumped at the chance to explore this new category. Most of these authors self Read More...
Lindsey has been writing since she was nine years old, when she discovered the awesomeness that is Harriet the Spy. Her books always include a romance, though sometimes there's an added sci-fi or magical realism twist. She lives in Columbus, Ohio (where the weather is never quite right). Her BFA in Photography and Graphic Design has granted her a wide assortment of creative knowledge that serves as inspiration (and not much else).
When she's not crafting YA and NA stories, you'll likely find her spending waaay too much time on Pinterest, playing a video game, singing show-tunes, or performing in a burlesque show—because she enjoys giving her introversion a worthy adversary. (Plus, it's the closest to Broadway she'll ever get.) Lindsey was a proud 2016 Pitch Wars Mentee and thoroughly adores being a part of the wonderful writing community. THE HEARTBEAT HYPOTHESIS is her debut novel.
Series
Books:
The Heartbreak Hypothesis, March 2017
e-Book
The Heartbeat Hypothesis, March 2017
Paperback