Sienna Snow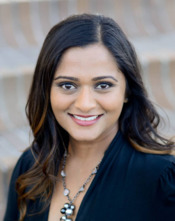 Blogging at Fresh Fiction
Sienna Snow | Billionaire: tech mogul, well-regarded, and a Woman!
November 1, 2016
A smart, sexy, and well-regarded billionaire is a rare being. Even more so, when that billionaire is—wait for it—a female! A tech Read More...
Born in London, England, Sienna Snow moved to the USA at the age of five. From an early age, she learned to balance two cultures, keeping the traditions of the Indian while learning the ins and outs of the American.
Her love of reading started at a very young age with "Beezus and Ramona." By the time she entered high school, a girlfriend introduced her to Bertrice Small and Jude Deveraux (much to the horror of the nuns at her Catholic school), and an avid romance reader was born.
Writing was her childhood aspiration, but her loving parents encouraged her to seek a "real job." So, she placed her secret passion on hold and went on to receive two bachelor's degrees and two masters degrees.
After a prolific career as a management consultant and the completion of her husband's medical degree, she became a stay at home mom and PTO Goddess.
Sienna has a deep-rooted love for travel and planning vacations years in advance. Her goal is to visit all seven continent in the next ten years.
When she is not writing, traveling, or reading, she spends her time with her husband and two children.
Sienna writes sexy romance, some with a lot of heat and spice and others with a bit of fantasy. Her characters represent strong women of different cultures and backgrounds, who seek love through unique circumstances.
Series
Rules of Engagement
Books:
Rule Changer, October 2017
Rules of Engagement
e-Book
Rule Master, March 2017
Rules of Engagement #2
e-Book
Rule Breaker, November 2016
Rules of Engagement
Paperback