Heather L.L. FitzGerald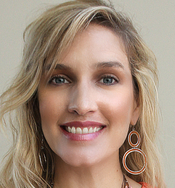 Blogging at Fresh Fiction
Heather L.L. FitzGerald | Top Five Reasons to Read Fantasy
June 30, 2017
Iíve seen your eyebrows quirk when I tell you I write fantasy. That little twitch of the brow is enough to alert me to Read More...
Heather L. L. FitzGerald | In Defense of Fantasy
January 15, 2016
ďOnly the most mature of us are able to be childlike. And to be able to be childlike involves memory; we must never forget Read More...
Heather L.L. FitzGerald lives in Texas with four someoneís that call her mom and one special someone that calls her his wife. Her YA Fantasy The Tethered World releases February 1st on Amazon and other online retailers. Heather is a member of the North Texas Christian Writers, and helps to facilitate the Manet writerís group. She loves drinking ice lattes, cloud watching, and getting lost in a good book.
Series
The Tethered World Chronicles
Books:
The Genesis Tree, June 2017
The Tethered World Chronicles #3
Paperback
The Flaming Sword, November 2016
The Tethered World Chronicles #2
Paperback
The Tethered World, February 2016
Tethered World Chronicles #1
Paperback