Tessa Harris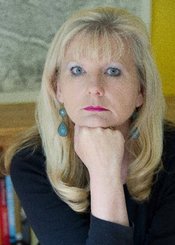 When I was five years old, I visited the dungeons of an old castle with my parents. The guide was telling us about the oubliette, the place where they threw prisoners and literally forgot about them. Without warning he turned the light off, plunging the space into darkness. We were blind for a few moments. But instead of terrifying me, the experience had the opposite effect. I wanted to know more about people, lives, events from the past. So,from a very early age, I loved history: buildings, books, stories.
I went on to read History at Oxford University and qualified as a journalist and editor, contributing to several national publications such as The Times and The Telegraph. I also acted as a literary publicist for the English TV presenter and novelist Pam Rhodes.
Winning a European-wide screenplay writing competition led to the optioning of a screenplay. (Here's where the history comes in.) Set in 18th century England, it highlighted what has to be one of the most fascinating periods of England's past. The screenplay languished in what's known as development hell, but I was determined to tell some of the stories I'd discovered during my researches into the period. The result is "The Anatomist's Apprentice," the first of a series of Dr Thomas Silkstone Mysteries - stories from late 18th century England that are based on true stories.
Until last December I was editor of a regional glossy magazine and was regularly heard on BBC local radio. As well interviewing dozens of celebrities, I interviewed writers at literary events in front of audiences. My most recent interviews were with Oscar winner Julian Fellowes (screenplay for Gosford Park), Barbara Taylor Bradford and Hollywood legend Leslie Caron.
Log In to see more information about Tessa Harris
Log in or register now!
Series
Dr. Thomas Silkstone | Constance Piper Mystery
Books:
A Deadly Deception, September 2019
Constance Piper #3
Hardcover
The Angel Makers, June 2018
Constance Piper Mystery #2
Hardcover
The Sixth Victim, June 2017
Constance Piper Mystery #1
Hardcover
Secrets in the Stones, March 2016
Dr. Thomas Silkstone #6
Paperback