Pintip Dunn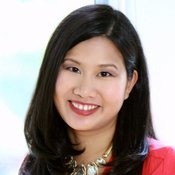 Blogging at Fresh Fiction
Pintip Dunn | Are Kisses in YA Fiction Swoony?
October 5, 2017
Kisses. Hot, steamy, sweet, funny, chaste. They come in a hundred different varieties, and I love reading about them all. Who doesn't? (Well, my Read More...
Pintip Dunn | Top 10 Reasons Why Tanner is Swoon-Worthy
October 1, 2016
I loved, loved, loved writing REMEMBER YESTERDAY, and one of the reasons is my hero Read More...
When her first-grade teacher asked her what she wanted to be when she grew up, Pintip replied, "An author." Although she has pursued other interests over the years, this dream has never wavered.
Pintip Dunn graduated from Harvard University, magna cum laude, with an A.B. in English Literature and Language. She received her J.D. at Yale Law School, where she was an editor of the YALE LAW JOURNAL. She lives in Maryland with her husband and children.
Series
Forget Tomorrow
Books:
Seize Today, October 2017
Forget Tomorrow #3
Hardcover
Girl on the Verge, July 2017
Paperback
Remember Yesterday, October 2016
Forget Tomorrow
Hardcover
The Darkest Lie, July 2016
Paperback
Forget Tomorrow, November 2015
Forget Tomorrow #1
Hardcover