Jean Flowers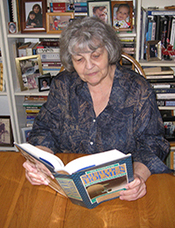 Blogging at Fresh Fiction
Jean Flowers | Mail to Deliver and Crimes to Solve
November 9, 2015
I've been a fan of the US Postal Service since I was a kid. It could have been the uniforms that got my attention Read More...
Pseudonym for Camille Minichino.

Camille received her Ph.D. in physics from Fordham University, New York City. She is currently on the faculty of Golden Gate University, San Francisco and teaches writing throughout the Bay Area. Camille is Past President and a member of NorCal Mystery Writers of America, NorCal Sisters in Crime, and the California Writers Club.
Camille has published over 20 novels and many short stories and nonfiction articles.
As Camille Minichino, she's published Periodic Table Mysteries, featuring retired physicist GLORIA LAMERINO.
As Margaret Grace, she writes the Miniature Mysteries, featuring miniaturist GERALDINE PORTER and her 11-year-old granddaughter, Maddie. The 8th in the series, MANHATTAN IN MINIATURE will be released in April 2015.
As Ada Madison, she's published the Professor Sophie Knowles Mysteries, featuring college professor SOPHIE KNOWLES.
As Jean Flowers, Camille is launching a new series, The Postmistress Mysteries. The first, DEATH TAKES PRIORITY, will debut in 2015.
A stand-alone, KILLER IN THE CLOISTER, is available on Kindle and CreateSpace.
The nonfiction book, HOW TO LIVE WITH AN ENGINEER, is available on Kindle and Createspace.
Series
Postmistress Mystery
Books:
Addressed to Kill, August 2017
A Postmistress Mystery
Mass Market Paperback
Cancelled by Murder, September 2016
Postmistress #2
Mass Market Paperback
Death Takes Priority, November 2015
Postmistress Mystery #1
Paperback