K.C. Tansley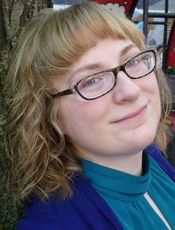 Contests
GUEST GIVEAWAY! K.C. Tansley – THE GIRL WHO SAVED GHOSTS plus iTunes Gift Card!

Blogging at Fresh Fiction
K.C. Tansley | 5 Things from My Life that Trickled into My Worldbuilding
July 30, 2015
When I'm drafting a story, I steal from my reality to form my fiction. Things filter into the book in ways that my readers Read More...
Pseudonym for Kourtney Heintz.

K.C. Tansley lives with her warrior lapdog, Emerson, and two quirky golden retrievers on a hill somewhere in Connecticut. She tends to believe in the unbelievables—spells, ghosts, time travel—and writes about them.
Never one to say no to a road trip, she's climbed the Great Wall twice, hopped on the Sound of Music tour in Salzburg, and danced the night away in the dunes of Cape Hatteras. She loves the ocean and hates the sun, which makes for interesting beach days. The Girl Who Ignored Ghosts is her award-winning and bestselling first novel in The Unbelievables series.
Series
The Unbelievables
Books:
The Girl Who Saved Ghosts, October 2017
The Unbelievables #2
e-Book
The Girl Who Ignored Ghosts, August 2015
The Unbelievables #1
Paperback