Paul Cleave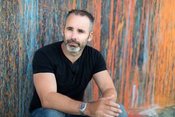 Paul Cleave is currently dividing his time between his home city of Christchurch, New Zealand, where all of his novels are set, and Europe, where none of his novels are set. His eight novels have so far been translated into over a dozen languages and nearly 20 territories. He has won the Saint-Maur book festival's crime novel of the year in France, has been shortlisted for the Ned Kelly award, the Edgar Award, the Barry Award, and has won the Ngaio Marsh award for NZ crime fiction.
The New Zealand Listener said that Cleave writes with 'an energy that conventional crime novels lack', and he has been called 'the next Stephen King', 'a rising star of the genre' and 'a writer to watch'. Publishers Weekly have said 'a pulse-pounding serial killer thriller. The city of Christchurch becomes a modern equivalent of James Ellroy's Los Angeles of the 1950s, a discordant symphony of violence and human weakness... the book's real power lies in the complexity of its characters,', and
Cleave numbers among his fans top crime and thriller writers such as Mark Billingham, who wrote: 'Most people come back from New Zealand talking about the breathtaking scenery and the amazing experiences. I came back raving about Paul Cleave.' John Connolly called Blood Men 'dark, bloody, and gripping . . . classic noir fiction', and said that in Paul Cleave 'Jim Thompson has another worthy heir to his throne'. The Lab's John Heath calls Cleave's writing 'uncompromising, unpredictable, and enthralling', adding, 'Made me vomit -- seriously, it's that good.' Simon Kernick said 'Cleave writes the kind of dark, intense thrillers that I never like to finish. Do yourself a favour and check him out,' and S.J Watson said 'An intense adrenalin rush from start to finish. It'll have you up all night. Fantastic!'
His novels are - The Cleaner, The Killing Hour, Cemetery Lake, Blood Men, Collecting Cooper, The Laughterhouse, Joe Victim, Five Minutes Alone, and Trust No One.
Series
Books:
A Killer Harvest, August 2018
Paperback (reprint)
Trust No One, August 2015
Hardcover