Ken Liu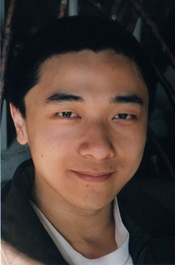 Kenís fiction has appeared in F&SF, Asimovís, Analog, Strange Horizons, Lightspeed, and Clarkesworld, among other places. He is a winner of the Nebula, Hugo, and World Fantasy awards. He lives near Boston with his family.
Kenís debut novel, THE GRACE OF KINGS, the first in a fantasy series, will be published by Saga Press, Simon & Schusterís new genre fiction imprint, in April 2015. Saga will also publish a collection of his short stories, The Paper Menagerie and Other Stories, in November 2015.
Kenís novels and collections are represented by Russell Galen of Scovil Galen Ghosh.
Interviews for Ken Liu
Fresh Chat | Ken Liu on Silkpunk, Fantasy, and THE GRACE OF KINGS
The Grace of Kings
May 14, 2015
Series
Dandelion Dynasty
Books:
Broken Stars, February 2019
Hardcover
The Paper Menagerie and Other Stories, March 2016
Hardcover
The Grace of Kings, April 2015
Dandelion Dynasty #1
Hardcover