Caroline Laskow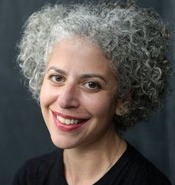 Caroline Laskow is a first-time cookbook author and lifelong food enthusiast. Early eating stand-outs include hot buttered toast, scrambled eggs and banana milkshakes. More recently, Caroline enjoys the wide variety of mouth-numbing peppery Szechuan dishes she seeks out in New York City. At home, she loves cooking with the great spices she finds at her favorite Indian market, and finds inspiration from so many cookbook authors (Jenny Rosenstrach, Amanda Cohen, Nigella Lawson, Peg Bracken, David Tanis, Yotam Ottolenghi and Sami Tamimi, this means you!).
When she's not making soup, Caroline makes documentaries: "Ashtanga, NY" about the yoga teacher Sri K. Pattabhi Jois; "Welcome to Kutsher's: The Last Catskills Resort" about the heyday and decline of the last original Borscht Belt hotel; and "Wilt Chamberlain: Borscht Belt Bellhop" an ESPN 30 for 30 short.
The community of food-sharing that has resulted in The Soup Club Cookbook began on the playground, with co-authors Courtney Allison, Tina Carr and Julie Peacock, and all their kids, scrapping around for everyone else's snacks. It has fortunately evolved into a more intentional (and less pretzel-oriented) routine. Caroline lives in Manhattan with her husband/documentary co-director Ian Rosenberg and their two children.
Series
Books:
The Soup Club Cookbook, January 2015
Paperback