Paul Davidson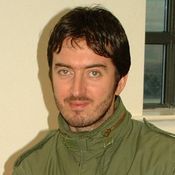 Paul Davidson is an illustrator and comic book artist from the north of England. He has been a professional artist for over 25 years, working with publishers from around the world. After a decade of illustrating and drawing comics for various publishers in the 90s, Paul was invited to try his skills in the video games industry. Looking for new challenges, he spent 9 years as a storyboard/ concept artist, where he also acted as art director for a number of very successful titles.
In 2008, Marvel Entertainment lured him back into sequential art to draw for various X-Men related titles. Following the success of the motion picture Dredd in 2012, Paul was asked to draw the sequel in comic book form for 2000AD, which has been published worldwide to critical acclaim. Enjoying all aspects of illustration, Paul employs a number of techniques and styles to accommodate new and exciting challenges.
Paul lives by the sea, so when he's not slaving away in his studio, he enjoys long walks on the beach with his beautiful wife and beloved dog.
Series
Books:
Dredd: Urban Warfare, February 2015
Paperback