Jean Burnett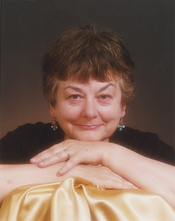 I remember winning essay prizes at school and scribbling in notebooks from an early age. After University (Exeter and Cardiff), I did a variety of jobs, married and lived abroad for a number of years, including in San Francisco, Canada and Mexico. On returning to England I worked as a copywriter and journalist on local papers and magazines mainly part-time to fit in with my life as a single parent.
I have written short stories over a long period. The first one, written in my teens, was published in the now defunct but fondly remembered teenage mag. Jackie
I later worked for the University of Bristol after moving there in 1983.
I attempted my first novel, a romance, in an attempt to pay the bills. It is still in a drawer at home.
Since then I have published a travel book, Vagabond Shoes. I also wrote a crime novel based on my time at the University of Bristol - as yet unpublished. My second n ovelwas published in 2012 by Little, Brown as Who Needs Mr.Darcy? in the UK,and by Pegasus Books in the USA as The Bad Miss Bennet. A sequel to Mr. Darcy called A Brazilian Affair is now out as an ebook. Both novels feature the further adventures of Lydia Bennet from Pride and Prejudice.
Series
Adventures of Lydia Bennet
Books:
A Brazilian Affair, December 2014
Adventures of Lydia Bennet #2
e-Book
The Bad Miss Bennet, October 2012
Adventures of Lydia Bennet
e-Book