Sarah Ballance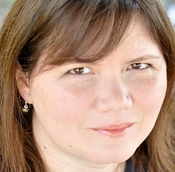 Blogging at Fresh Fiction
Sarah Ballance | 4 Unconventional Erogenous Zones
July 19, 2016
We've all heard of these. Magic buttons, or at least spots that can lead to magic. And while they're a bit of a Read More...
Sarah Ballance | Dropping the Ball
April 5, 2016
The adage that life is a juggling act is a cliché for a reason. It's true. It's so stupendously true that it's Read More...
Sarah Ballance | Historical Romance's Forgotten Era
October 15, 2014
When I landed my first historical contract, most of the historical romance books with which I was familiar would be classified as belonging to one Read More...
Sarah Ballance: The Lure of Dark History in Romance
April 19, 2014
I'll be the first to admit a book set during the Salem witch trials doesn't exactly scream romance. For that matter, the setting Read More...
SARAH BALLANCE is a multi-published author of contemporary, historical, and supernatural romance and romantic suspense. She's been married to her own romantic hero for what he calls a "long, long time" (and no, he'll never hear the end of saying that). Together they have six children ... and clearly too much time on their hands.
Series
Sins of Salem | Men of the Zodiac | What Happens in Vegas | Chase Brothers - Ballance
Books:
The 48-Hour Hookup, September 2016
Chase Brothers #4
e-Book
The Millionaire's Gamble, July 2016
e-Book
The Three-Week Arrangement, April 2016
Chase Brothers #3
e-Book
Men of the Zodiac, March 2016
Boxed set
e-Book
For Seven Nights Only, January 2016
Chase Brothers #2
e-Book
Gambling on the Bodyguard, October 2015
What Happens in Vegas #8
e-Book
One Night with the Billionaire, September 2015
Men of the Zodiac
e-Book
Five Things I Love About You, August 2015
Chase Brothers #1
e-Book
The Sins of a Few, October 2014
e-Book
The Marriage Agenda, September 2014
e-Book
An Unexpected Sin, April 2014
Sins of Salem #2
e-Book
Her Wicked Sin, September 2013
Sins of Salem
e-Book